BNP Paribas Shares Fall as Quarterly Profit Misses Estimates
by
French consumer-banking earnings decline by 36% in quarter

Company publishes fresh targets for revenue, profit, capital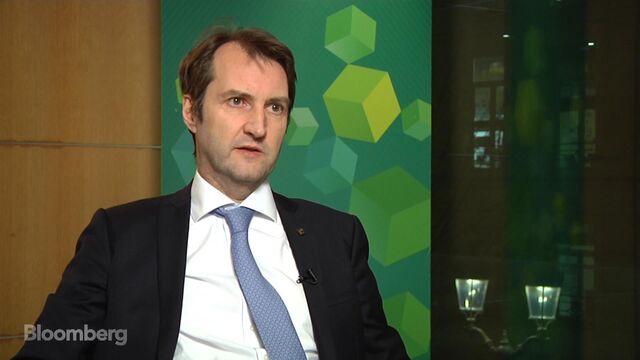 BNP Paribas SA shares dropped the most since June after France's largest bank posted earnings that fell short of estimates and cast doubt over growth in its home market.
The bank tumbled as much as 5 percent in Paris trading after reporting fourth-quarter net income of 1.44 billion euros ($1.54 billion), below the 1.63 billion-euro average estimate of seven analysts surveyed by Bloomberg. Earnings at the French consumer-banking unit slumped, while fixed-income trading rose less analysts forecast.

Record-low interest rates and sluggish economic growth have held back consumer-banking profits at BNP Paribas and European peers. The bank, led by Chief Executive Officer Jean-Laurent Bonnafe, said it will spend 3 billion euros over the next three years to upgrade digital-banking services and increase automation, while also seeking to squeeze out 3.4 billion euros in costs companywide. It set a target for return on equity of 10 percent for 2020 -- matching its 2016 goal.
"The new targets are rather uninspiring and maybe leave the door open to do better," said Karim Bertoni, who helps manage 7.9 billion Swiss francs ($7.9 billion) at Bellevue Asset Management in Switzerland. In the fourth quarter, BNP "fared well, but there was nothing shining."
BNP Paribas's stock fell 4.1 percent to 57.53 euros by 4:52 p.m. in Paris trading, leading French banking rivals lower. Societe Generale SA slumped 2.7 percent, while Credit Agricole SA slid 2.2 percent.
One-Time Costs
Pretax earnings from French consumer banking fell 36 percent from a year earlier to 177 million euros as loan losses increased and revenue fell. The lender also booked about 130 million euros in costs related to job reductions in Belgium and Italy, and a 127 million-euro goodwill writedown at its Polish unit.
It will "remain difficult" to return to revenue growth at the French retail unit over the coming year, Chief Financial Officer Lars Machenil said in an interview with Bloomberg Television.
At the corporate and institutional banking unit, an 8 percent increase in revenue helped drive a 51 percent jump in pretax profit. Revenue from fixed income, currencies and commodities -- BNP's biggest source of trading income -- rose 23 percent to 838 million euros, missing the 939 million-euro average of three estimates compiled by Bloomberg News. Sales at BNP Paribas's equities and prime-services business rose 20 percent.
Mixed Results
Overall, it was "a mixed set of results," analysts at Citigroup Inc. wrote in a note to clients. The French retail business was "was weaker than expected," while the corporate and institutional banking unit looked better.
For 2016, BNP earned 7.7 billion euros, the most in six years, even as some of its biggest European competitors struggled. Deutsche Bank AG last week reported a second straight annual loss, hurt by legal costs, while Italy's UniCredit SpA said it will post a 2016 loss of about 11.8 billion euros and tap shareholders for the third time since 2010.
BNP Paribas raised the dividend to 2.70 euros a share, and will target an average annual increase of more than 9 percent until 2020. Neither share buybacks nor extraordinary dividends are currently on the table because BNP would rather use additional capital to fund growth should Europe's economy accelerate, Chief Operating Officer Philippe Bordenave told analysts on a call.
2020 Goals
As BNP Paribas speeds up digital investments, new spending measures will outpace cost reductions this year before evening out starting next year. The bank is aiming for a return on equity of 10 percent in 2020 with a common equity tier one ratio of 12 percent. It also aims for average annual revenue growth of at least 2.5 percent through 2020. BNP expects profit to rise by more than 6.5 percent annually and intends to pay out 50 percent of earnings in dividends as early as for 2017, Bordenave said.
BNP Paribas raised about $800 million from disposing of part of its holding in First Hawaiian Inc. to strengthen capital. Selling the rest at current prices would bring First Hawaiian's total boost to the CET1 ratio to 0.55 percentage points, Bordenave said. The ratio, a measure of financial strength, rose to 11.5 percent at the end of 2016 from 11.4 percent three months earlier.
BNP Paribas will provide more details on its targets at a meeting with investors on March 20.
Before it's here, it's on the Bloomberg Terminal.
LEARN MORE