Blankfein Says Goldman Would Take More Risks If Regulators Eased Up
by
'Left to our own devices,' Goldman would hold less capital

Tough talk on trade is exception to stimulus focus, CEO says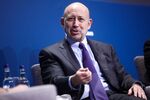 Lloyd Blankfein said he'd like to operate Goldman Sachs Group Inc. with less capital as growth picks up and the rebound in fixed-income trading appears set to continue.
"Left to our own devices, we wouldn't hold as much capital as we're holding," the chief executive officer said Tuesday at an investor conference in Miami Beach, responding to a question about what regulatory changes he'd like to see. "Certain belt-and-suspender elements of the regulatory framework put different constraints on different firms."
Rules put in place after the financial crisis have gone too far, and loosening some would help the industry without risking its safety, according to Blankfein.
Blankfein's comments come just days after his former lieutenant, Gary Cohn, in his role as President Donald Trump's top economic adviser, proposed sweeping changes to industry regulations. Lawmakers and critics have argued that loosening rules on Wall Street, including regulations forcing banks to use more equity funding, will sow the seeds of the next crisis.
Morgan Stanley Chief Financial Officer Jonathan Pruzan, speaking at the same conference, said the administration's regulatory review would be a good chance to simplify some of the regulations.
"We started with rules that were one page that turned into 1,000 pages that requires us to put in 20 or 30 thousand pages to show people that we're complying," Pruzan said. "There's a level of complexity, there's a level of overlap that makes some of the rules and regulations more burdensome than potentially the value."
Read more: Cohn emerges as face of Trump's economic policies
Blankfein said the bond-trading business stands to benefit after many clients stepped away and higher capital rules reduced profitability.
"It's a very difficult balance, this idea between what's structural change and what's cyclical change," said Blankfein, 62. "It's very hard to know how effective you've been at achieving that balance until after the cycle is fully turned. I'm not expecting another false dawn, and by the way I don't expect it and I see many reasons for continued improvement."
In the wide-ranging discussion, Blankfein also said the new administration's tough talk on trade negotiations is one notable exception to what's otherwise been a focus on stimulus programs. Improving economic growth is a tailwind that could help propel the tax and regulatory changes Trump has championed, Blankfein said.
Before it's here, it's on the Bloomberg Terminal.
LEARN MORE