RBA's Hawkish Tilt Reflects Governor on Alert for Asset Bubbles
By
Lowe's statement shows a bank extremely reluctant to cut rates

RBA still expects 3 percent growth over next couple of years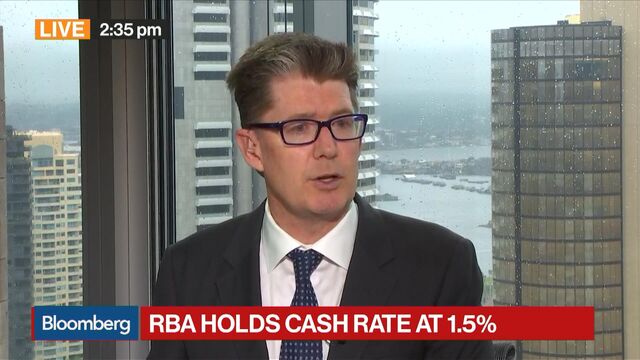 The Reserve Bank of Australia's nod to rising leverage and a pick-up in home loans suggests an easing is unlikely any time soon -- given the governor has financial stability hard-wired into his DNA.
Philip Lowe and his board left interest rates unchanged at 1.5 percent Tuesday, as expected, and reaffirmed growth would accelerate to about 3 percent over the next couple of years despite a contraction in the third quarter. Lowe also noted the global reflation story and stronger growth in developed countries, spurring commodity prices in a windfall for Australia.
"The balance of the comments tilts slightly in the hawkish direction," said Andrew Ticehurst, an interest-rate strategist at Nomura Holdings Inc. in Sydney, citing the housing and growth comments. "What this shows is a central bank that is extremely reluctant to lower the cash rate, at this point anyway."
The Aussie dollar gained and bets on rate cuts slid as the market repriced for a more optimistic outlook, with Lowe again signaling his willingness to absorb weak inflation in order to shore up financial stability. The governor also noted the altered stance of central banks in major economies where there's now no expectation of further monetary easing.

At home, Lowe blamed a third-quarter contraction in the economy on "temporary factors" and predicted "a return to reasonable growth" in the final three months of 2016.
"The bank's central scenario remains for economic growth to be around 3 percent over the next couple of years," he said. "Growth will be boosted by further increases in resource exports and by the period of declining mining investment coming to an end. Consumption growth is expected to pick up from recent outcomes, but to remain moderate."
He then restated the central bank's expectation of "some further pick-up in non-mining business investment," though the RBA has been saying this for several years without it coming to pass.
Aussie Surge
On China and the global outlook, the bank was upbeat. It predicts above-trend growth in some advanced economies that's boosting commodity demand.
Reflecting this, the Aussie dollar climbed more than 5 percent in January and has been strong against the currencies of key trade partners like China, Korea and Japan, reducing the economy's competitiveness. That hampers the transition from a reliance on mining to services like tourism and education.
Lowe again cited the Aussie's depreciation since trading above $1 in 2013 as helping the transition from a mining boom, but he changed the standard "could" to "would" in the ensuing line about an appreciating exchange rate complicating the adjustment.
The governor also dropped "somewhat" before his line on labor market indicators being "mixed," slightly toughening the statement. The bank noted "considerable variation" in jobs indicators across Australia as the former boom states of Western Australia and Queensland weaken with falling mining investment and low rates fuel an east coast bonanza.
New Divide
This is Australia's new divide: in the past five years, house prices have climbed 73 percent in Sydney and 52 percent in Melbourne, fueled by low rates, pushing private debt from 167 percent to a record 187 percent of disposable income. In Western Australia, in contrast, the jobless rate rose 2.5 percentage points to 6.6 percent.
While the RBA noted the unevenness of the labor market, it said "forward-looking indicators point to continued expansion in employment." And while inflation remains weak, headline consumer price growth is predicted to return to the 2 percent to 3 percent target this year. Core inflation, which strips out some of the volatile items, should take longer.
The central bank releases a quarterly update of its growth and inflation forecasts Friday.
— With assistance by Kimberley Painter
Before it's here, it's on the Bloomberg Terminal.
LEARN MORE