Canada's Economy Is Waiting on Trump and Has a Problem With Men
By
U.S. uncertainty puts Canadian policy makers on pause

Robust 2nd-half jobs growth is easing anxiety over Nafta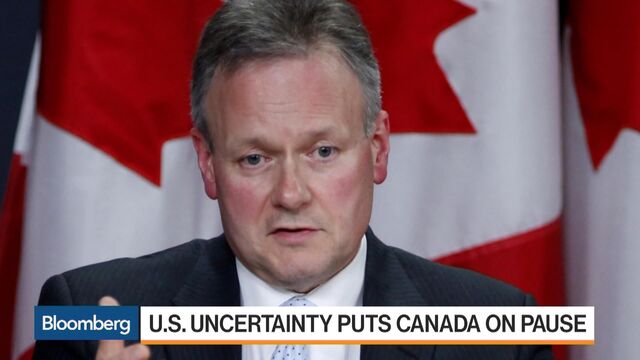 Canada's economy has been on a bit of a run lately, with the second half of 2016 one of its better performances since the recession. That's relieving some of the angst over recent moves by U.S. President Donald Trump's administration, particularly on trade.
So much so that investors are mostly brushing off concerns that Trump's policies could be a negative for Canada's economy.
Here are some of the numbers:
The country added 229,000 new jobs last year, the most since 2012.
Almost three-quarters of those, or 164,800 jobs, were created in the latter six months, making it the best half-year gain since 2010.
Second-half exports were growing at the fastest pace since 2014, led by a rebound in oil shipments.
Data is tracking fourth quarter growth of almost 2 percent, following a 3.5 percent annualized pace in the third quarter. That's also the strongest back-to-back performance since 2014.


Jobs and Trade
Two reports out this week, year-end trade data and January jobs numbers, will provide the freshest evidence of how entrenched the recovery really is. In fact, they may have out-sized importance since Bank of Canada Governor Stephen Poloz won't get final fourth-quarter data before his March 1 rate decision. Gross domestic product numbers come out March 2.
That makes it extremely difficult for policy makers to gauge the impact of recent fiscal stimulus on the economy ahead of the decision. In a speech last week, Poloz said government infrastructure spending still hadn't shown up in the data.
Economists forecast a second straight trade surplus in December and a small drop in employment in January.
Week Ahead
Bloomberg Nanos Consumer Confidence Index (Monday, 10 a.m.)
Statistics Canada reports international merchandise trade and building permits (Tuesday, 8:30 a.m.), new housing price index (Thursday, 8:30 a.m.), and the labor force survey (Friday, 8:30 a.m.)
Ivey PMI (Tuesday, 10 a.m.)
CMHC housing starts (Wednesday, 8:15 a.m.)
Deputy Governor Larry Schembri speech in London, Ontario (Thursday, 11:20 a.m.) 
Wait and See
One consequence of all the unknowns around Trump's presidency is that it's obstructing policy making in Canada. This interruption is explicit in the Bank of Canada's case; Poloz has said increasing uncertainty makes it more likely he'll remain on the sidelines. But the federal government too is agonizing over the unknowns -- which explains the procession of officials traveling to Washington over the last couple of weeks trying to figure out Trump's plans on trade.
The confusion poses a major problem for fiscal planning. The more uncertainty around Trump's plans, the more pressure there is on Finance Minister Bill Morneau to add risk cushions into the federal budget and that could inflate deficit projections -- an unattractive option. Another option is to hold off publishing a fiscal plan until there is more certainty about events. There's a recent precedent for holding off. Morneau's Conservative predecessor Joe Oliver, who waited until late April to deliver his 2015 fiscal blueprint, said he needed time to gauge the impact of the oil-price collapse.
The present government has yet to say when it will issue its 2017 budget, although there has been some speculation of a February date.
'Ways Behind'
It's getting harder to conclude Poloz has any intention to following the Federal Reserve higher.
Take his comments last Tuesday, after a speech in Edmonton, when asked about the Canadian dollar: "We're still quite some ways behind the U.S. economy so divergence in our policies is exactly what we would expect to see. We would not expect to see Canada following the U.S. at this stage in terms of monetary policy." If that's not clear enough, how's this: "A whole year ago I gave a speech in January and it was about the coming policy divergence, and that still holds." 
He's even hinted at a time frame, saying the oil shock that started in 2014 has delayed Canada's return to full capacity by two or three years. Investors aren't convinced. The currency is up a healthy 3.2 percent this year, and swaps traders are assigning 26 percent odds of a rate increase in 2017.
Men Not Working
One area where Poloz sees evidence of excess capacity is the labor market, despite robust jobs growth. His concern is the quality of those jobs, since they are mostly part time and not generating much of an increase in hours worked or wages.
A report by CIBC's Benjamin Tal provides some insight into what may be happening. Tal found that since the late 1990s the declining quality of employment, measured by the growth of below-average-wage jobs, seems to be largely a male problem, as men suffer disproportionately from the long-term decline of goods-producing industries. The increase in part-time work, along with wage stagnation, is curbing income growth.
"If you go to what is happening in the U.S., the elephant in the room that Trump is trying to solve, this problem simply does not have a solution," Tal said in a phone interview. "Canada is not immune to that. We have many people who simply do not participate in the economic recovery."
Trump's Impact
Estimates are coming in for the impacts of Trump's hypothetical trade policies, and the verdict, to no one's surprise, is Canada will get hurt.
A study released by the C.D. Howe Institute last month found a 10 percent tariff on all imports would reduce the country's gross domestic product by 0.9 percent, and double that if Canada retaliates. Montreal-based National Bank Financial recently estimated a 10 percent tax on goods crossing the American border would knock 9 percent off the value of Canada's exports to that country.
The latest report comes from economists at Deutsche Bank AG, who looked at the impact of all the U.S.'s major trading partners, finding Canada would be among the hardest hit, forcing the country to cede about $70 billion in trade to the U.S. The good news is their data show Canada, along with the U.K., have the most balanced trade with the U.S.
That could count if the U.S. decides to target only countries with whom it has large trade deficits.
Before it's here, it's on the Bloomberg Terminal.
LEARN MORE