U.K. Profits Squeezed as Pound's Drop Pushes Up Company Costs
By
Half of firms see domestic margins squeezed, BCC survey says

Export impact mixed as sterling proves 'double-edged sword'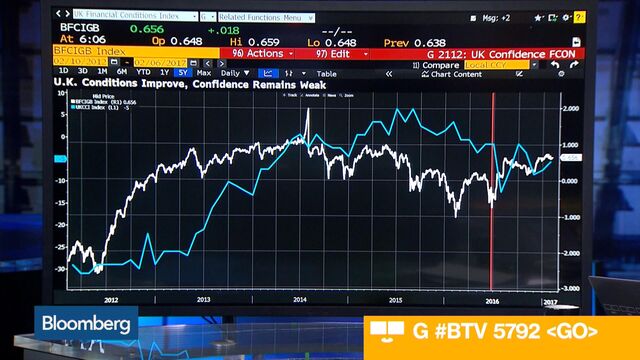 U.K. companies are facing tighter margins as the pound's slide starts to fuel cost increases, according to the British Chambers of Commerce.
Sterling's drop since Britain voted to leave the European Union is having a negative impact on the domestic sales margins of nearly half of businesses surveyed, while the effect on exports is mixed, the BCC said. The survey also found that 68 percent of businesses expect their costs to increase over the coming year, with 54 percent of companies expecting to have to lift the prices in the same period.
"The falling pound has been a double-edged sword for many U.K. businesses," Adam Marshall, director general of the BCC, said. "Nearly as many exporters say the low pound is damaging them as benefiting them."
Higher prices risk hitting the consumers that have so far proved the backbone of the U.K.'s economic resilience. While the Bank of England has said some policy makers have begun to worry about accelerating inflation, it has indicated it won't rush to tighten policy.
The survey, run in partnership with Moneycorp and based on the responses of nearly 1,500 businesses, also showed nearly half don't currently manage foreign exchange risk or expect to do so in the six months. That leaves them at risk of being "locked into contracts with suppliers and unable to be responsive to currency fluctuations," Marshall said.
A separate report by the Institute for Chartered Accountants in England and Wales said that while firms predict stronger sales, they expect higher input costs to counter the effect on profits. Business confidence in the U.K. remained negative this quarter and capital investment growth was the slowest in three years, it said.
"Inflation continues to rise and commodity prices are increasing more rapidly than before, so we expect costs to climb faster still," said Stephen Ibbotson, director of business at ICAEW. "Firms will try to pass many of these increases on to their customers, which means that 2017 is likely to be a year of counting the pounds and pennies for consumers following an unsustainable spending spree toward the end of last year."