Five Things You Need to Know to Start Your Day
Get caught up on what's moving markets.
By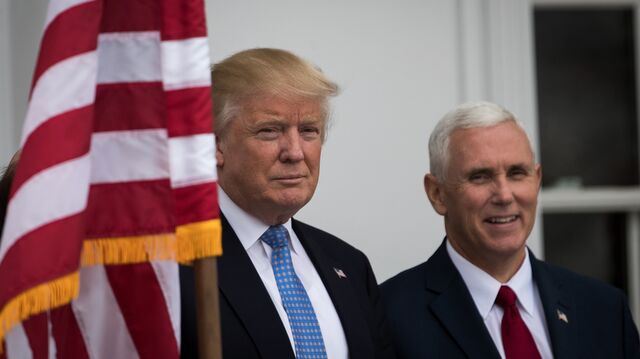 Want to receive this post in your inbox every morning? Sign up here.
It's Trump versus the judiciary, there's been a busy weekend in European politics, and oil looks set for a bumpy ride. Here are some of the things people in markets are talking about today.
Immigration ban banned
Via Twitter, President Donald Trump vented his anger at U.S. District Judge James Robart's Friday ruling that blocked the administration's immigration restrictions. A U.S. appeals court declined to immediately reinstate the executive order over the weekend. The battle of the ban now seems set to reach the Supreme Court. Late on Sunday night, 97 companies filed an amicus brief in the Ninth Circuit Court of Appeals emphasizing the importance of immigrants to the economy and society.
Busy weekend in European politics
Marine Le Pen, the far-right candidate for the French presidency, unveiled her policy platform yesterday. She plans to end the independence of the Bank of France, restore a national currency, and introduce a wide range of protectionist measures. French bond prices still show little expectation that Le Pen will win the election. In the U.K., Prime Minister Theresa May is facing the risk of rebellion from within her own party as the bill to trigger Article 50 makes its way through parliament this week. Romania, meanwhile, is seeing something akin to an actual rebellion as a record 600,000 people protested yesterday, calling for the government to resign. 
German factory orders
More good news for the German economy as factory orders surged the most since 2o14, gaining 5.2 percent in December. European Central Bank President Mario Draghi will answer questions in the European Parliament later. Accelerating inflation, and his take on the strength of the euro in the wake of last week's comments from head of Trump's National Trade Council Peter Navarro, are likely to be among the issues discussed.
Markets rise
Overnight, the MSCI Asia Pacific Index added 0.4 percent, with Japan's Topix index also climbing 0.4 percent. In Europe, the Stoxx 600 Index was 0.2 percent higher at 5:38 a.m. ET as investors awaited Draghi's testimony. S&P 500 futures increased 0.1 percent. Gold is nearing its highest close since November.
Oil rattle
The world's biggest independent oil trader expects Trump's policies and changes in global production to take oil prices on a bumpy ride this year. Kho Hui Meng, the head of the Asian arm of Vitol Group, says global benchmark Brent crude may fluctuate between $52 and $62 a barrel as investors are kept on tenterhooks. This morning a barrel of West Texas Intermediate for March delivery was trading at $53.85 at 5:47 a.m ET. 
What we've been reading 
This is what's caught our eye over the weekend.
Before it's here, it's on the Bloomberg Terminal.
LEARN MORE