Trump Has Made the Social Media Manager Your Most Valuable Employee
"The president is basically the community manager of the United States."
by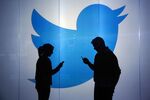 In the eight years Donald Trump has had a Twitter account, he has posted more than 34,000 tweets. About a hundred of them were sent after he was sworn in as president on Jan. 20. The short bursts of text defended controversial executive orders, bolstered cabinet nominees, and disparaged the press. Trump's attachment to the platform has become the subject of national security protocol, think pieces, and comedy bits.
With the world logging on to see Trump tweet, social media and digital community managers are considering their jobs in a different light. 
Once maligned as low-ranking non-jobs invented for flighty but digitally nimble millennials, social media roles grew in prestige as companies recognized the importance of social media to their brands. Once President Trump made Twitter a key communication channel with the executive branch, however, social media jobs were imbued with new power—and responsibility.

Controlling the day-to-day public message of brands on Twitter is newly charged, when one tweet from the president can tank stocks. Trump has said he uses his account as a way of bypassing the news media, and his messages often affect rival politicians, newspapers, corporations, and advocacy groups. This past weekend, Trump used the medium to lash out at a federal judge. 
In Trump's first week as president, the Twitter account for Badlands National Park sent a few tweets citing scientific facts that were viewed as an act of rebellion after the new administration froze new grants and limited communications with the public. The park later deleted the tweets and attributed them to a rogue former employee. But the tweets showed that, much as Trump bypasses the media to get his message directly to the people, so could a national park. 
"Anyone who has a communications or social media team has had to say, 'What position are we taking on this? Are we not going to be active, or are we going to say something?'" said Annemarie Dooling, the director of programming for Racked, a fashion website, who has worked in digital community organizing for the past decade.
Dooling cited the Merriam-Webster Dictionary as one brand that is actively reacting to Trump through its tweets. The dictionary tweeted a definition of "refugee" after Trump signed the immigrant ban. "It was the obvious choice," said the dictionary's social media manager Lauren Naturale. The goal of the account "is to connect the dictionary to people's everyday lives, which includes providing information on words that people are talking about," she said.
A number of other institutions find themselves needing to tweet at Trump to appease their followers. By the time Tim Cigelske, director of social media at Marquette University, a Jesuit school, got to work last Monday morning, he already had an e-mail from an alumnus demanding to hear from the school on the president's executive order targeting immigrants from seven Muslim majority nations.
Trump had spent Sunday morning tweeting about the nation's borders, the "extreme vetting" of immigrants, and the persecution of Christians in the Middle East. Father James Martin, a former Marquette commencement speaker and prominent member of the Jesuit community, had tweeted urging Catholics to stand with Muslims and condemned Trump's immigration policy. With the university intertwined in a debate on Trump's policy, Cigelske and his colleagues rushed to issue a statement. By Monday afternoon, the school tweeted out a message in support of immigrants. 
"Things happen in the community, or the world, and it's not a self-contained news story," Cigelske, 35, said. "It impacts all kinds of entities, including a university in Milwaukee." 
Since the rise of Trump, Cigelske describes his job as more "unpredictable." "Because he is able to drive the news cycle with his own media, it trickles down and impacts so many other places," he said. "Rather than us tweeting about the upcoming basketball game, we're now responding to the churn in the news cycle. That's a direct result of [Trump's] actions." 
Between the high volume of changes in the White House and presidential statements on Twitter, it can be hard for social media managers to determine which Trump tweet to respond to, explained Curtis Lahaie, a 23-year-old marketing and communications associate for GLSEN, a nonprofit that advocates for LGBT students. 
"GLSEN has been doing this work for 26 years now, and we really remain committed to our ongoing work," he said. "We really aren't going to be taken off course." On GLSEN's Twitter feed, most messages are about Betsy DeVos, the nominee for education secretary, as the group's work would be directly affected by her appointment. The nonprofit also sent a tweet in support of immigrant students. "We have those ongoing messages of solidarity when issues don't perfectly tie in to our mission," Lahaie said. 
While the president's infatuation with Twitter has put more power and responsibility in the hands of social media managers, it's also dealt them more vitriol. "The president tweeting in a certain way validates that other people can do that. That's not great for the random person getting a lot of hate messages," Dooling said. "The president is basically the community manager of the United States." 
Before it's here, it's on the Bloomberg Terminal.
LEARN MORE