Trudeau's Growth Guru Urges Deeper North American Trade Ties
by
Advisory Council on Economic Growth calls for more integration

Canada relies on trade for 65% of GDP versus 30% in U.S.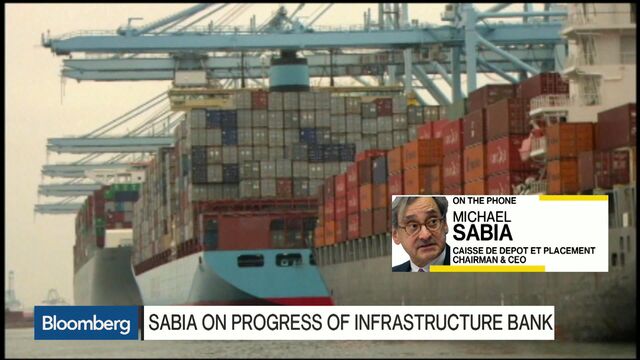 Canadian Prime Minister Justin Trudeau should keep touting the benefits of global trade to skeptical voters and seek even deeper ties within a successful North American trade zone, according to a report from the government's Advisory Council on Economic Growth.
The report Monday comes as U.S. President Donald Trump says the North American Free Trade Deal needs to be renegotiated or scrapped because it's unfair to American workers. Canada needs to promote its advantages in industries such as food production, and navigate a world where new technology threatens to displace workers from the jobs they hold today, said the panel chaired by Dominic Barton of consulting firm McKinsey & Company.
"To deepen our economic ties with the United States, Canada should look to strengthen linkages with the American business community, and counter the current protectionist sentiment," the report said. "The North American Free Trade Agreement has clearly enhanced the trading relationship between the United States, Canada, and Mexico, but even greater benefits would follow from further market integration."
Seeking trade ties with fast-growing countries such as China, Japan and India would also help Canada, said the panel, adding its benchmark goal is lifting the median household income by C$15,000 ($11,000) by 2030. That means Canada may also need an "alternative approach" in any follow-up agreement to the stalled Trans-Pacific Partnership.
Trudeau has already suggested he's willing to negotiate Nafta. Although U.S. plans are unclear, Trump advisers have said trade with Canada is balanced and it won't be a major target of any penalties. Still, the Trump team has suggested measures such as an import tax, which would have a major impact on the Canadian economy.
Aboriginal Participation
The panel also recommended the government help private investors create a C$1 billion fund to take minority stakes in "established" and fast-growing companies, and another smaller fund to aid newer and smaller companies. The group's first report in October called for the government to put up C$40 billion for an infrastructure investment bank.
Improving the labor market by raising the participation rate of aboriginals, women and lower-income workers could also boost Canada's long-term potential, the report said. The biggest gains would come from bringing Canada's 54 percent participation rate for workers over the age of 55 up to the 62 percent seen in a group of best-performing industrialized nations, which could increase per-person output by 2.8 percent.
Changes are necessary for Canada because the economy already relies on trade for 65 percent of gross domestic product, well above the U.S. share at 30 percent. That means politicians may have a lot of explaining to do to make it work.
"The recent increase in anti-trade sentiment around the world should be acknowledged," the panel said. "But neither global sentiment nor addressable costs should dissuade Canada from seeking its place as a major trading hub within the global economy. Far from it: in fact, we have an economic imperative to do so."
Before it's here, it's on the Bloomberg Terminal.
LEARN MORE