Marlboro Man Takes E-Cigs Share on Japan Tobacco Supply Woes
By and
Philip Morris's iQOS beating Japan Tobacco in its home market

Production snags mean Japanese company's Ploom has lost ground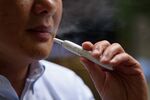 Japan Tobacco Inc. is sitting in the middle of an e-cigarette market it sees more than tripling this year. Trouble is, production snags at the former government-owned monopoly mean foreign rivals are set to take most of it.
Marlboro-maker Philip Morris International Inc.'s smokeless iQOS has seized 5.5 percent of the country's entire tobacco market in less than a year of nationwide sales, while Japan Tobacco delayed a nationwide roll-out of its heated tobacco device, Ploom Tech. British American Tobacco also piled on the competition with the introduction of its Glo in December.
Japan Tobacco is struggling to catch up with rivals in the tobacco vapor market and said Monday it expects profit to drop this year. The slip in Japan, a key testing ground for competing next-generation tobacco technologies, may have global consequences for the company as other markets start to embrace a smoking alternative some believe has lower health risks and less social stigma.
"I'm looking at the technology risks, and what I'm seeing is that these guys are having serious trouble coming up with a technology that can compete with what Philip Morris has," said Amir Anvarzadeh, head of Japanese equity sales at BGC Partners Inc. in Singapore.
Japan Tobacco fell as much as 1.8 percent in Tokyo trading Tuesday. The stock has fallen 5.6 percent this year, compared with the 0.5 percent decline in the benchmark Topix index.
Operating income will probably fall a more-than-expected 5.6 percent to 560 billion yen ($5 billion) for this year, Japan Tobacco said Monday. That compares with the 591 billion-yen average of analyst estimates compiled by Bloomberg. Sales will drop about 1.6 percent to 2.11 trillion yen, compared with the average analyst estimate of 2.24 trillion yen.
Vapor products will probably account for 15 percent of Japan's entire tobacco market by the end of this year, up from 5 percent as of the fourth quarter of 2016, Chief Executive Officer Mitsuomi Koizumi said Monday.
To chase that growth, Japan Tobacco will expand sales of Ploom to Tokyo from June, and nationwide in the first half of 2018, the company said. Ploom Tech, which heats tobacco capsules rather than burning them, was introduced last March on a limited trial basis in Fukuoka prefecture, away from Japan's three largest urban centers.
Capacity Constraints
Nicotine-laced liquid -- commonly used in e-cigarettes popular in the U.S. -- is categorized as a pharmaceutical ingredient in Japan, where it's strictly controlled. Vapor-producing products that use tobacco leaves, such as iQOS and Ploom Tech, don't face the same restrictions in the country.
In an interview last week, the executive in charge of the new product, Yasuhiro Nakajima, said it may take time to ease capacity constraints on Ploom production despite spending tens of billions of yen to fix the problem.
"The competing product has taken 5.5 percent of the market in less than a year," said BGC's Anvarzadeh. "That's huge."
Before it's here, it's on the Bloomberg Terminal.
LEARN MORE