Japanese Rebel Eclipses Abe as Japan's Most Popular Politician
By and
Candidate backed by Tokyo governor Koike wins local election

Koike seeks to defeat Abe in citywide election later this year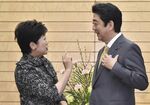 Tokyo Governor Yuriko Koike may be the most effective opposition leader in Japan these days -- and she's in the ruling party.
Koike, an ostracized member of Prime Minister Shinzo Abe's Liberal Democratic Party, took another step toward carving out her own power base with a proxy win over him in a local election. A landslide victory on Sunday for her mayoral candidate in a central Tokyo ward gives her momentum ahead of a vote for the city assembly later this year.
While Abe, 62, has won four straight national elections and his approval rating has been steady, Koike has eclipsed him as Japan's most popular politician in recent polls. The swift rise of the 64-year-old former television newscaster has exposed rifts within Abe's ruling coalition and put her name in the conversation as a potential successor as prime minister.
Koike showed her national ambitions in 2008 when she ran for leadership of the LDP, which would've made her prime minister. She eventually lost to current Finance Minister Taro Aso. Since becoming Tokyo's governor, Koike has avoided discussing any return to national politics.
Koike has been fighting her party's establishment since it declined to back her in the governor's race last year, even though she was a former defense and environment minister. With the slogan "Tokyo Residents First," Koike prevailed against a rival LDP candidate last July to become the first female head of the nearly 14-million strong city.
After taking up the post, the LDP bloc in the assembly has refused to cooperate with her efforts to improve public disclosure, reduce the cost of the 2020 Olympics or investigate a decision by a former governor to move the city's famous Tsukiji fish market to the polluted site of a former gas plant.
That prompted Koike to set up her own political study group, which attracted 4,000 applicants -- a few dozen of whom will be chosen to run against LDP incumbents in the July 2 city assembly election. She's also won support from the local branch of Komeito, Abe's junior coalition partner.
Her moves appear to be paying off: A national poll conducted by the Sankei newspaper and Fuji News Network last month put support for Koike at 79 percent, compared with 61 percent for Abe's cabinet.
Sunday's election showed Koike's potential to rally candidates. Incumbent Masami Ishikawa kept his job as mayor of Chiyoda Ward for a fifth straight term in part by running on issues backed by Koike, including free health care for children up to age 18. He won three times as many votes as challenger Makoto Yosano, the nephew of a former economy minister and party heavyweight.
'Great Show of Support'
"I see this as a great show of support for the reforms of Tokyo that I've been calling for," Koike said in comments broadcast on television after the election result. "I feel a deep sense of responsibility."
While the new mayor represents just about 60,000 people, Chiyoda Ward is also the constituency of an LDP power broker in the city assembly who Koike's team see as a barrier to change.
"It's a very symbolic election," Kazusa Noda, policy secretary for Koike, said in a Jan. 26 interview. "The city government has to some extent blocked information disclosure -- it's known as a black box."
The LDP sees her popularity as fleeting.
"If she wants a full-on fight, we are ready to take up the challenge," LDP Secretary-General Toshihiro Nikai told reporters last month when asked about the Tokyo Metropolitan Assembly election.
Doubts Linger
That view is shared by some analysts who question whether she can successfully take on the top power brokers in a party that has run the world's third-biggest economy for all but a few years since 1955.
"She has found issues that have played well with the electorate, but it is not clear how they will be resolved," said Katsuhiko Nakamura, executive director of Asian Forum Japan in Tokyo. "Depending on how she deals with this, her popularity may start to fall."
Despite the months of quarreling, Koike remains officially a member of the LDP. Noda, her policy secretary, said she asked the party to decide her fate last year but has yet to receive a response. Yoshihide Suga, Abe's chief cabinet secretary, declined to comment when asked about Koike on Monday.
Koike is in position to secure a majority in the Tokyo assembly elections, according to Aiji Tanaka, a politics professor at Waseda University in Tokyo. That would enable her to pursue an agenda that also includes increased spending on child care.
While Koike has clashed with Abe's aides, both she and the prime minister have steered clear of criticizing one another openly. He may even be prodded to do more to promote women in Japan's parliament -- a key goal pushed by Koike.
That could allow the LDP to welcome her back to the central government at some future date, particularly if the Olympics are a success, Tanaka said.
"If they go very well, everyone is happy and she's still very popular, Abe could opt to bring her back," Tanaka said. "And while going from governor to premier is not an established career path in Japan, it could happen."
(
Updates with details on Koike's run for leadership in fourth paragraph. An earlier version corrected the date of a recent poll.
)
Before it's here, it's on the Bloomberg Terminal.
LEARN MORE