Electric Vehicles Carve Record U.K. Market Share in January
by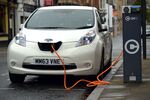 Cars powered by electricity and other low-emission fuels grabbed record U.K. market share in January, according industry figures.
Vehicles running on alternative fuels grew almost a fifth, to 4.2 percent, compared to 3.6 percent during the same period last year, according to a statement from the Society of Motor Manufacturers and Traders reporting January vehicle-registration data
In contrast, registrations of diesel-fueled vehicles fell 4.3 percent compared to January 2016. Registered petrol-powered vehicles increased 8.9 percent. Overall registrations of new vehicles grew 2.9 percent to 174,564.
The Nissan LEAF, BMW i3 and data are among the top pure-electric cars registered to drive on U.K. roads.
Before it's here, it's on the Bloomberg Terminal.
LEARN MORE