Draghi Rebuts Trump Lines on Currency Wars, Bank Rules
By and
Germany isn't currency manipulator, Draghi tells EU Parliament

ECB's Draghi says rollback of financial regulation 'worrisome'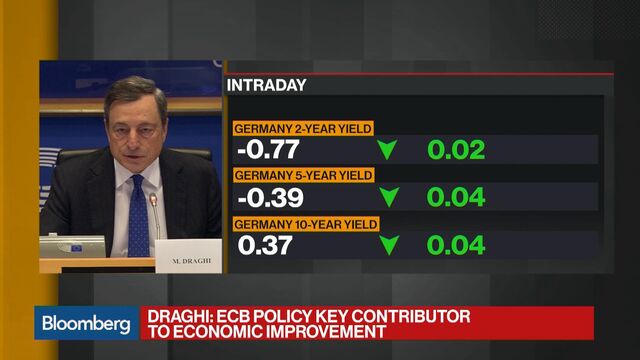 Mario Draghi took the Trump administration to task, addressing recent assertions that Germany is a currency manipulator and warning against the rollback of post-crisis financial regulation.
Speaking at a hearing in Brussels on Monday, the European Central Bank president responded to the charge by U.S. National Trade Council Director Peter Navarro and others that Germany is using a "grossly undervalued" euro to gain an unfair trade advantage. 
"The ECB has not intervened in the foreign exchange markets since 2011," Draghi told European Union lawmakers, adding that Germany's trade surplus was the result of productivity gains. "Germany has a significant bilateral trade surplus with the U.S., a material current account surplus, but it has not engaged in persistent one-sided intervention in the foreign exchange market."
In a question-and-answer session punctuated with lawmakers' concerns over the shifts in global economic and financial policy brought about by the change of government in Washington, Draghi also hit out at the U.S. President's moves to begin dismantling the Dodd-Frank Act. Rolling back the compendium of financial rules intended to prevent a repeat of the 2008 financial crisis would be "very worrisome," he said.
"The last thing we need at this point in time is a relaxation in regulation," Draghi said. "Frankly I don't see any reason to relax the present regulatory stance which has produced a stronger banking and financial services industry than before the crisis."
The euro was little changed as Draghi spoke, trading at $1.0790 at 6:02 p.m. in Frankfurt.
Basel Review
Draghi was also asked to address concerns that the U.S. will now tear up its previous negotiating stance with regard to the Basel III global financial rule book, currently in the midst of a contentious finalization procedure. A key U.S. lawmaker wants the Federal Reserve to halt its participation until the new administration has reviewed their work.
"We have to see what exactly the U.S. administration wants to do with respect to negotiations of the Basel treaty," Draghi said. "The combination of easy money and financial deregulation was exactly the ground upon which the financial crisis developed."
Euro-area policy makers have been caught off guard by the speed with which the new U.S. government has been willing to challenge established trans-Atlantic practice, from apparent support for anti-EU forces to implicit attacks on monetary policy. Indeed, German Finance Minister Wolfgang Schaeuble this week diverted attention to the ECB, in saying that the euro-dollar exchange rate is too weak for his nation.

The spat also obscures the 19-nation currency bloc's relatively good economic performance of late. Draghi underlined that euro-area economic sentiment is at the highest in five years and unemployment is falling to single digits. Euro-area output has been "solid" in every quarter since 2015, Draghi said, averaging 1.9 percent in annualized terms.
That said, in introductory comments on ECB policy and the euro-area economy that largely echoed his press conference of Jan. 19, Draghi said current stimulus settings reflect a recovery that isn't yet strong enough to stand on its own.
Growing Confidence
"Our December decisions" show "our growing confidence that the euro area's economic prospects are firming up, " the ECB president said. "At the same time, the lack of a clear sign of sustained convergence of inflation rates toward the desired level" is taken into account.
Even as inflation in the euro area jumped around the turn of the year, reaching a close-to-target 1.8 percent in January, the ECB's view is that current gains are largely driven by energy prices and don't warrant a discussion about tightening monetary policy yet. The ECB will trim its bond-buying program to 60 billion euros ($64 billion) per month in April from 80 billion euros a month currently, and it intends at this stage to let it run at that pace until the end of the year.
"Support from our monetary policy measures is still needed if inflation rates are to converge toward our objective with sufficient confidence and in a sustained manner," Draghi said. "Financing conditions have to remain supportive, taking remaining uncertainties inside and outside the euro area into account."