Don't 'Obstruct' Brexit, Theresa May Warns Rebel Lawmakers
By and
Premier rejects calls for unilateral EU citizens rights pledge

Lawmakers debating quitting the bloc and May's trigger move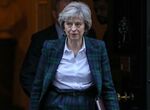 U.K. Prime Minister Theresa May told rebels in her own Conservative Party not to "obstruct" the British people's desire to leave the European Union as she sought parliamentary backing to trigger Brexit negotiations.
The premier is under pressure from some Conservative members of Parliament to give ground on two key issues: guaranteeing EU citizens can stay in Britain after Brexit, and promising lawmakers a binding vote on the final divorce deal before it is too late for it to be changed.
Read about why Brexit's detour through Parliament may weaken May's hand
May told lawmakers she is determined to get on with delivering the withdrawal from the bloc that British people voted for last June, urging colleagues not to hold up the draft Brexit law currently passing through Parliament.
"The message is clear to all: this House has spoken and now is not the time to obstruct the democratically expressed wishes of the British people," May said as she updated Parliament on last week's informal EU summit in Malta. "It is time to get on with leaving the European Union and building an independent, self-governing, global Britain."
Read here for an overview of May's interactions with EU colleagues in Malta.
May is facing a revolt from pro-European lawmakers as she seeks their support for legislation that would give her the power to initiate the start of Britain's exit from the EU. She was forced to introduce the emergency bill after Supreme Court judges in London ordered her to seek approval from Parliament before triggering Article 50 of the EU treaty, the formal legal mechanism for leaving.
Some Tories are threatening to support amendments to the bill because they want May to make a unilateral promise to EU citizens living in the U.K. that they can stay in the country after Brexit and she was repeatedly asked about the issue in the House of Commons on Monday.
May rejected a one-sided offer, saying it would be wrong to act without first receiving a reciprocal promise that British ex patriots' rights would also be guaranteed by other EU countries.
"I have every confidence that we'll be able to address this issue early in negotiations," she told the House of Commons. "It's article 50 that will trigger our ability to discuss this matter."
Standing Firm
Some of May's critics, including former ministers, also want her to promise Parliament a meaningful vote on the final Brexit deal she reaches in Brussels before it is too late to be changed. She showed no signs of being willing to make concessions on this issue either.
A series of Conservatives stood up to question May on the issue of residency rights for EU citizens but she stuck to her line: no deal for European migrants unless British expats are given the same promise. 
Tory Alberto Costa said his family members were EU citizens living in the U.K.
"I am putting my entire trust in the Prime Minister to honor this promise," Costa said. "Getting an early agreement will be in my opinion a decisive marker of her negotiating skills and leadership qualities as our prime minister.''
Heidi Allen, another Conservative, urged May to rethink her approach if she could not get the early deal on reciprocal rights that she wants from the EU. The premier insisted that she would succeed.
Before it's here, it's on the Bloomberg Terminal.
LEARN MORE