Brexit Bulletin: Wrecking Ball?
Parliament is getting closer to backing Theresa May's Brexit bill, but the rank-and-file aren't finished yet.
by and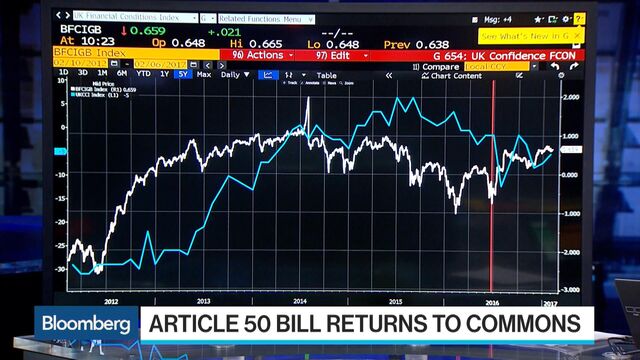 Sign up to receive the Brexit Bulletin in your inbox, and follow @Brexit on Twitter.
Another week, another Tory uprising for Prime Minister Theresa May to overcome as she inches towards securing parliamentary approval to trigger Brexit.
Although the House of Commons handed her a virtual mandate at the first time of voting last week, on Monday lawmakers begin a line-by-line debate over the legislation that would grant her the power to invoke Article 50.

Opposition legislators have pitched more than 250 amendments and Labour Party leader Jeremy Corbyn has his own headaches keeping his colleagues in line. But the real danger for May lies within her own Conservative Party. If enough party members back any of the proposed tweaks she could face trouble, given that she has a majority of just 16. Her deadline of filing for divorce by the end of March might then be in question.
Some 27 Tories lawmakers plan to support "wrecking amendments" to the Brexit law, Steve Baker, chairman of a group of pro-Brexit Conservative lawmakers, told Bloomberg on Saturday.
Prime among their concerns is that May should consult parliament if she fails to strike an exit deal with the EU. "If there's no deal, then the government will determine what happens next and I think it should come into Parliament," former Business Minister Anna Soubry, a Conservative, said on Sunday on the BBC's "Andrew Marr Show."
Neil Carmichael, a Tory backbencher, wrote in the Mail on Sunday that "Parliament must have a final say when we get to the end-game."
May might also run into resistance over the fate of EU citizens residing in Britain. She has said she would like to safeguard their future, and wants reciprocal arrangements for Brits living on the Continent. Parliament's Human Rights Committee said last week that its amendment seeking to guarantee the rights of those in the U.K. has been accepted for discussion.
"We can and should go further in providing a firm guarantee of their status ahead of talks," former Work and Pensions Secretary Stephen Crabb wrote in the Guardian.
House of Commons amendments could embolden the upper house, the Lords, which will debate the legislation later in the month. While the Conservatives are the biggest party in the Lords, they're short of a majority, with just 252 peers out of 805.

More Popular in the Country?
May might find she's more popular outside of Westminster.
Two special elections later this month to fill vacancies in the Commons may hand the Conservatives a rare chance to gain a seat from the opposition outside of the general election cycle. The U.K. Independence Party, meanwhile, sees an opportunity in one of the most pro-Brexit parts of the country.
Jeremy Corbyn's Labour Party, split over its stance on the European Union and trailing badly in national polls, is defending both districts. Defeats would raise more questions about Corbyn's future, though he easily saw off a leadership challenge last year with the support of rank-and-file party members.
Eddie Buckle has all the numbers you need to know ahead of the Feb. 23 votes.

Message From Malta
Malta may be smaller than the smallest English county, but it provides an insight into the European allegiances that Britain will hit head on after firing the starting gun on Brexit negotiations.
The current president of the EU and host of last week's summit of leaders, Malta sees its future firmly with its newer friends within the EU, rather than its old colonial master.
John Follain, Jonathan Stearns and Karl Stagno Navarra report how despite promising to serve as an "honest broker," Maltese Prime Minister Joseph Muscat is also warning the U.K. cannot expect a deal more favorable than its current membership.
Separately, Estonian Prime Minister Juri Ratas told Bloomberg that the U.K.'s "sobering" choice had helped fortify EU solidarity. Still, German Finance Minister Wolfgang Schaeuble extended an olive branch over the weekend by saying the importance of London's financial sector to the rest of Europe meant a "reasonable" deal should be found. And Latvian Prime Minister Maris Kucinski told Sky News that a trade deal could be negotiated at same time as divorce, and within two years
Brexit Bullets
Ipsos Mori poll finds 58 percent of business leaders feel Brexit vote already having a negative effect
Brexit will have "neutral effect on security cooperation," Metropolitan Police Commissioner Bernard Hogan-Howe tells BBC
Consulting firm Mercer says Brexit will exacerbate labor market problems, with skills shortages growing as the population ages
Britain to draft tax-slashing legislation as warning to EU, Daily Telegraph reports
A Center For European Reform study suggests the U.K. could strike a pact to pay the EU £14.5 billion when Britain leaves the bloc
Minneapolis Federal Reserve Bank study says Brexit will mean a significant fall in foreign investment and production by U.K. firms
On the Markets
The pound's slide is starting to push up costs. A survey from the British Chambers of Commerce shows almost half of businesses report that the Brexit decision is having a negative impact on domestic sales. Some 68 percent of companies expect their costs to increase in the coming year, with 54 percent predicting they will raise prices as well.
Still, the pound's slide is tempting Middle Eastern property buyers. Investors from the region accounted for 24 percent of all overseas acquisitions in the fourth quarter, compared with 10 percent a year earlier, according to data compiled by fund manager Fidelity International.
And Finally…

The U.K. Brexit Department, headed by David Davis, is bulking up staff numbers.
It has hired 328 people since its formation last July as it braces for two years of intensive negotiations. Sixty-two came from the government's Cabinet Office, with the Foreign Office providing 29, the ministry said in response to a freedom of information request.
For more on Brexit follow Bloomberg on Twitter, Facebook and Instagram, and see our full coverage at Bloomberg.com
Before it's here, it's on the Bloomberg Terminal.
LEARN MORE