May Stands Firm Amid Fresh Challenge to Her Brexit Trigger Plan
By and
Tory rebels want guarantee for EU migrants, vote on final deal

May said to reject demands for compromises, expects loyalty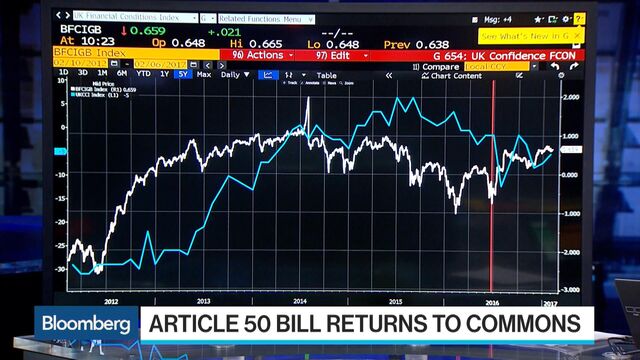 U.K. Prime Minister Theresa May is refusing to compromise in the face of a fresh challenge to her Brexit plans, as lawmakers begin detailed debate of the bill to start negotiations to leave the European Union.
Members of Parliament will have the chance to alter the draft law during debates starting on Monday, with a number of rebels in May's own Conservative Party said to be planning to defy her authority and back amendments to the bill.
The rebels are most concerned about May's refusal to guarantee that EU citizens living in Britain can stay in the country after Brexit, and her reluctance to give Parliament a decisive say over the final exit deal before it is too late to be changed.
Despite the growing unease from some Conservatives, May will not make concessions to colleagues who are critical of her draft law, according to an official familiar with her plans.
The premier expects her own party to back the democratically expressed will of the British people to leave the EU, said the official, who didn't want to be named discussing confidential plans.
Free Hand
"The government must have a free hand to negotiate with the European Union," Iain Duncan Smith, a pro-Brexit Conservative and former cabinet minister, said in an interview ahead of the debate on Monday. "You can't add amendments to this bill until it looks like a Christmas tree, because the government will find it impossible to do its negotiations."
The revolt comes as concerns grow about the impact of Brexit on the supply of skilled workers. May must prioritize measures to ensure movement of skilled labor is not disrupted after Brexit, according to a survey of top executives from FTSE 500 companies, conducted by Ipsos MORI.
The danger for May is that members of her Conservative Party could lend support to opposition amendments. Her majority is just 16, so if enough rebels did so they could delay her attempt to start two years of Brexit talks by the end of March or tie her hands in the negotiations. Prime among their concerns is that May should consult Parliament if she fails to strike an exit deal with the EU.
"If there's no deal, then the government will determine what happens next and I think it should come into Parliament," former Business Minister Anna Soubry, a Tory, told the "Andrew Marr Show" on BBC Television Sunday. "I don't know why people are so fearful of that."
Why Brexit's Detour Through Parliament Matters: QuickTake Q&A
Soubry was backed up by Neil Carmichael, a rank-and-file Tory who wrote in the Mail on Sunday that "Parliament must have a final say when we get to the endgame."
"The prime minister has agreed to give Parliament a say on any Brexit deal she negotiates," Carmichael wrote. "Mrs. May has also said she would prefer 'no deal to a bad deal'. However, at present, there is no provision to give MPs a vote on this outcome."
The Brexit bill passed its first hurdle on Wednesday when the lower chamber, the House of Commons, voted it through to the next stage. On Monday, the committee stage of the bill allows members of Parliament to alter it, and opposition MPs have proposed more than 250 amendments filling a 146-page document.
Wrecking Amendments
Soubry and Carmichael are among several Conservatives to voice concerns about aspects of May's Brexit strategy, which is premised on pulling the U.K. out of the EU's single market and customs union, escaping the jurisdiction of European courts and regaining control over immigration. Former ministers Nicky Morgan, Dominic Grieve and Alistair Burt all expressed misgivings during debates on the bill on Tuesday and Wednesday.
"The government needs a pretty open hand, although one or two amendments might help them to retain parliamentary support," Burt said.
Twenty-seven Tory lawmakers plan to support "wrecking amendments," Steve Baker, chairman of a group of pro-Brexit Conservative lawmakers, said on Saturday in a text message. "Any vote to amend this simple bill is a vote against implementation of the referendum result."
Attempts to stop MPs "including me doing parliamentary scrutiny job which is key part of our democracy are chilling, wrong & will fail," Morgan said Saturday on Twitter.
EU Citizens
Another concern of potential rebels is the fate of European citizens resident in Britain. While May has said she wants to guarantee their rights, she maintains it's contingent on receiving reciprocal guarantees for Britons living in EU nations.
May kept the bill short at just 137 words to lessen the chance of amendment, which must fall within the scope of the text. Deputy Speaker Lindsay Hoyle, who will preside over three days of committee hearings before a final Commons vote, must choose which amendments to accept for debate. Parliament's Human Rights Committee said last week that its amendment seeking to guarantee the rights of EU citizens had been accepted.
May should guarantee EU citizens' rights "unilaterally," the opposition Labour Party's spokeswoman on foreign affairs, Emily Thornberry, said on Sunday in a BBC TV interview. On several issues where Labour has concerns about May's Brexit strategy, "we are speaking to government, we are speaking to Tory backbenchers and we are trying to get a compromise that will work," she said.
Labour faces problems of its own after 47 lawmakers defied party orders to support the bill in parliament on Wednesday. Four members of leader Jeremy Corbyn's frontbench team quit ahead of the vote so that they could oppose it, and more may do so in the week ahead if the party fails to drive any amendments through.
If the House of Commons succeeds in amending the bill, it could embolden the upper house, the Lords, which will debate the legislation later in the month. While the Conservatives are the biggest party in the Lords, they're short of a majority, with just 252 members out of 805.
Before it's here, it's on the Bloomberg Terminal.
LEARN MORE