Bond Bears and Dollar Bulls Can't Both Win Big in Reflation Bets
By
Jawboning by Trump, adviser signal greenback may trail

BofA predicts Treasury yields to lead the charge higher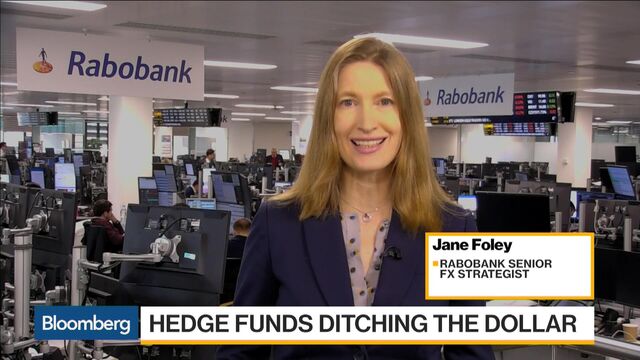 After the Trump administration's jawboning about currencies this past week, the loosening relationship between the dollar and Treasury yields may be here to stay.
Since the U.S. election, the dollar and bond yields have been linked to an almost unprecedented degree, with investors betting the new president's fiscal policies will jumpstart economic growth. The greenback's moves have had a 0.74 correlation with 10-year yields since Nov. 8, compared with just 0.22 over the past two years, data compiled by Bloomberg show. A correlation of 1 indicates the assets move perfectly in sync.
The close connection has started to crumble in the past two weeks, reverting to the norm. The Bloomberg Dollar Spot Index fell in January by the most in 10 months, inflicting pain on dollar bulls. Treasury yields, on the other hand, merely hovered near where they started 2017, leaving many bond bears unwavering in their positions. 
Expect yields to lead the way higher from here, says Shyam Rajan, head of U.S. rates strategy at Bank of America Corp. One reason is that Trump's policy objectives favor a weaker dollar and his administration will try to talk it lower, he says. Currency traders were buffeted by administration remarks in the past week, with Trump and another official accusing China, Japan and Germany of devaluing their currencies to gain a trading advantage, while complaining that the dollar is too strong.

"In thinking about the Trump trade, our view supports both higher rates and higher dollar, but with weaker correlation and the driver being rates," Rajan said. "The president has a greater incentive to talk down the dollar than to talk down higher rates."
Catching Up
There's been another change for investors assessing the reflation equation: signs of economic pickup elsewhere in the world. The eurozone, with consumer-price growth of 1.8 percent in January, had by far the biggest upside surprise in inflation as measured by Citigroup Inc., with Japan ranking second.
That means German yields have started to catch up with the post-election move in the U.S. The extra yield on U.S. 10-year debt over their German counterparts has shrunk to about 2 percentage points, down from as high as 2.35 percentage points in December. 
To Rajan, that signals that Treasury yields have room to rise. By contrast, a smaller rate differential makes the dollar less attractive.
"Europe is doing a lot better," said Charles Ripley, an investment strategist at Allianz Investment Management. "Our outlook is definitely for rates higher. We generally think Trump's policies are going to be supportive of dollar strength, but the magnitude of where that goes is a bit uncertain."
Straight Shooter
Dominic Konstam, global head of rates research at Deutsche Bank AG, doesn't mince words about the dollar-Treasury link.
"The dollar must not rally as rates rise for the rise in rates to be sustainable," he wrote in a Jan. 29 note.
That's because a weak greenback is needed to sustain the inflation expectations that have ratcheted up since the election. The 10-year break-even rate, a market measure of inflation expectations, is 2.05 percent, near the highest since 2014.
A weaker correlation between bonds and the dollar "would be a sign of a return to more normal times," Konstam said.
Normal times? I don't know if I'd go that far.
What else to watch:
Feb. 6
German Factory Orders
Feb. 7
U.S. Trade Balance
JOLTS Job Openings
Consumer Credit
Feb. 8
U.S. MBA Mortgage Applications
Canadian Housing Starts
Feb. 9
U.S. Initial Jobless Claims
Canadian New Housing Price Index
Feb. 10
U.S. Import Price Index
U.S. Monthly Budget Statement
Canadian Unemployment Rate