Trump Loses Bid to Restart Travel Ban While Court Hears Appeals
By and
'We're going to win this argument,' Pence says in TV interview

Two states sued claiming travel ban hurts residents, economy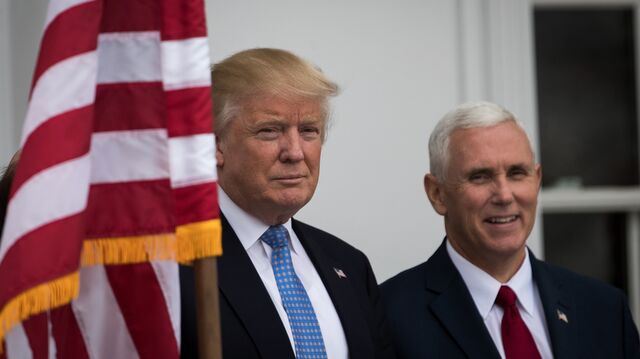 A U.S. appeals court declined to immediately reinstate President Donald Trump's immigration restrictions, leaving visa holders and refugees from seven predominantly Muslim nations free to travel to the U.S. as arguments over the president's authority wind toward a possible Supreme Court showdown.
The action in San Francisco followed moves by the departments of Homeland Security and State on Saturday to revert to rules in place before the president acted, even as Trump's administration expressed outrage over a Friday ruling in Seattle blocking the order. The appeals court ordered the states of Minnesota and Washington, which won their challenge at the lower court, to respond to the Trump administration's arguments before midnight Sunday, with the Justice Department getting until Monday to submit final arguments for enforcing the ban while the court battle continues.

Trump's efforts to reinstate his order will hinge on whether the Justice Department can convince an appeals court of mostly Democratic appointees -- and possibly a divided Supreme Court -- that the executive branch alone has authority on matters of national security.
"It's quite clear that the president has the ability to determine who has access to this country when it comes to national security," Vice President Mike Pence said in an interview on "Fox News Sunday." "We're going to move very quickly into the merits of this argument, and we're going to win this argument."
The Justice Department isn't immediately asking the U.S. Supreme Court to rule given the "fast briefing schedule" requested by the appeals court, said Peter Carr, a department spokesman.
'So-Called Judge'
U.S. District Judge James Robart 's ruling in Seattle on Friday was the most comprehensive legal admonishment of Trump's executive order prohibiting immigrants, students, temporary workers and others from Syria, Iraq, Iran, Sudan, Somalia, Yemen and Libya from entering the U.S. for 90 days. Judges in Brooklyn, New York; Alexandria, Virginia; and Los Angeles have issued orders that are less sweeping.
Trump's Jan. 27 policy, signed without advance notice, threw airports across America into turmoil last weekend as travelers from the affected countries who were already en route to the U.S. learned upon landing that they couldn't leave the airport. Some of those people were lawful U.S. residents holding green cards and work visas. Some travelers were required to return to their points of origin, generating spontaneous protests at international terminals. Others were detained.
Robart, who was appointed to the bench by Republican President George W. Bush and confirmed 99-0 by the Senate, also temporarily set aside Trump's 120-day ban on refugees from those countries.
The Seattle ruling eclipsed a Trump administration win earlier on Friday, when a federal judge in Boston refused to extend a temporary ruling blocking enforcement at that city's airport of the ban on immigrants from seven countries. Robart said Washington and Minnesota can sue on the grounds that their economies and residents would be harmed by the ban.
"The opinion of this so-called judge, which essentially takes law-enforcement away from our country, is ridiculous and will be overturned!" Trump told his 23.6 million Twitter followers in one of a series of messages Saturday. Trump later wondered "what is our country coming to when a judge can halt a Homeland Security travel ban."
Trump's Refugee Ban and the Legal Battle Over It: QuickTake Q&A
The emergency appeal, filed by the Justice Department late Saturday, asserts Trump's constitutional authority to order a temporary ban on immigration and says Robart's ruling "second-guesses the president's national security judgment."
Senator Dianne Feinstein of California, the top Democrat on the Senate Judicary Committee, said she has "no doubt" the case will go before the Supreme Court as a test of executive power.
"We have three branches of government. They are equal," she said in an interview on "Fox News Sunday." "The federal court has a right to make a judgment whether a law or an order is lawful and constitutional. And that process has begun." 
The U.S. Court of Appeals for the Ninth Circuit covers most of the western U.S., with jurisdiction over Alaska, Arizona, California, Hawaii, Idaho, Montana, Nevada, Oregon and Washington, covering about 20 percent of the U.S. population. All but a quarter of its judges were appointed by Democratic presidents.
The court's reputation as a liberal bastion was reinforced by some of its rulings in the past year. In November, the court blocked Arizona from enforcing its ban on so-called ballot harvesting, a practice favored by Democrats becauseit allows voters in remote areas to have their ballots brought to the polls by another person. In June, the court threw out an earlier ruling striking California's strict laws on who can can carry concealed weapons.

Arizona Ruling
In a politically charged case last week, the court came down on the side of an Obama administration executive order that overrode Arizona's refusal to issue drivers' licenses to undocumented immigrants brought to the U.S. as children, which were protected under the so-called Dreamers program. It left in place Obama's order on the grounds it is the "exclusive authority of the federal government to classify non-citizens."
It's unclear whether that ruling granting the president latitude over states regarding executive orders and immigration will apply to the state challenge to Trump's executive order.
Baher Azmy, legal director of the Center for Constitutional Rights in New York, said he expects the Justice Department to make general arguments about the president's power to control borders, which is true generally but will be tested against what Azmy called the "obviously malignant discriminatory criteria" in play.
"This isn't the 1920 Chinese Exclusion act era; we have evolved in our understanding of our discrimination works," Azmy said. "We all know what this is about and any constitutional democracy will reject it. "
Economic Consequences
Washington Attorney General Bob Ferguson said the effects on his state included economic consequences for employers based there, including Microsoft Corp., Starbucks Corp. and Amazon.com Inc. Bellevue, Washington-based Expedia Inc. had about 1,000 customers with flight reservations in or out of the U.S. from the seven countries, he said.

Minnesota, like Washington, cited the effect of the ban on students at its colleges and universities, as well as health-care centers including the Mayo Clinic. The state's 5.4 million residents include 30,000 immigrants from the affected countries, it said in the lawsuit. Minnesota has the largest population of Somalis in the U.S.
The case is State of Washington v. Trump, 17-cv-00141, U.S. District Court, Western District of Washington (Seattle). The Boston case is Loughghalam v. Trump, 17-cv-10154, U.S. District Court, Massachusetts (Boston). The appeal case is State of Washington v. Trump 17-35105, in the U.S. Court of Appeals for the Ninth Circuit.
— With assistance by Elizabeth Amon, Janelle Lawrence, Michael B Marois, Jennifer Epstein, Bob Van Voris, Thomas Seal, Andrew M Harris, Erik Larson, Michael Riley, and Chris Strohm
Before it's here, it's on the Bloomberg Terminal.
LEARN MORE