politics
U.S. Plans Review of UN Peacekeeping Missions
By
South Sudan mission may be early target in review: diplomats

Haley is under Congressional pressure to cut spending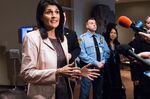 U.S. Ambassador Nikki Haley plans to take a close look at United Nations peacekeeping operations as part of a goal to reduce contributions to the international organization, according to two Security Council diplomats.
In her first week as U.S. envoy after winning Senate confirmation, Haley zeroed in on the world body's 16 peacekeeping missions, which have been criticized for sexual abuse violations, corruption and inefficiency, according to the diplomats, who asked not to be named discussing private meetings. The UN missions in South Sudan and the Democratic Republic of Congo, which cost $2.2 billion per year, are likely to face scrutiny, according to one of the diplomats.
The U.S. provides almost 30 percent of the $7.9 billion UN peacekeeping budget, more than the combined contributions of China, Japan and Germany, the next three top providers. At the end of 2016, almost 119,000 personnel, including more than 100,000 troops and police, were involved in peacekeeping operations worldwide. Nine of the 16 operations are in Africa, with others in countries including Haiti and along the disputed India-Pakistan frontier.
Haley's effort may win backing from the new UN Secretary-General, Antonio Guterres, who has said he wants to reform the peacekeeping operations. Troops sent to Haiti in 2010 introduced cholera to a population already struggling to recover from the country's devastating earthquake. The South Sudan operation has been plagued by an inability to stop violence.
'No Peace'
"Too often we deploy troops to areas where there is no peace to keep," Guterres said in an address to the General Assembly in December.
The Haiti mission and one in Liberia are already in the process of being wound down.
Even before taking office, Haley was under pressure by Congress to cut U.S. expenditures to the UN after the Security Council passed a resolution in December condemning Israel's settlements policy. During her confirmation hearing, Haley signaled her concerns about the peacekeeping controversies and the ability of the UN's so-called blue helmets to fix some of the most intractable conflicts.
Officials at the U.S. Mission to the UN referred to Haley's Senate testimony when asked about her focus on peacekeeping operations.
"If you look at the peace missions in Africa, it has been devastating to see the sexual exploitation, the fraud, the abuse that's happening," Haley told senators Jan. 18. "If we look at South Sudan, it's terrible. But you also have to look that we're not getting cooperation from their own government, and that requires us to go back and look at that and see what can be salvaged from that."
Before it's here, it's on the Bloomberg Terminal.
LEARN MORE