Trump's Strong Dollar Means Weaker Sales at Apple, Honeywell
By and
IPhone maker forecasts 'headwind,' raises prices overseas

Stronger dollar hurts exports, sales in foreign currencies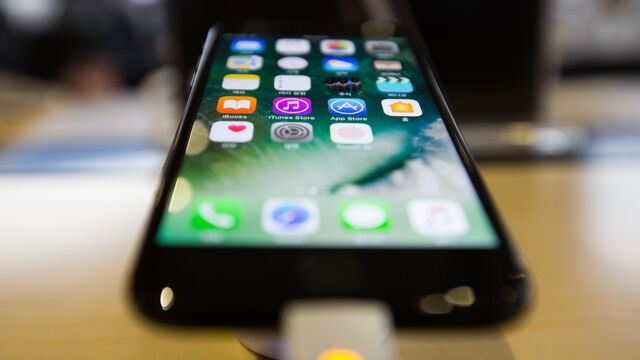 The Trump dollar is taking a bite out of the earnings prospects for U.S. companies.
Apple Inc. is boosting the prices of iPhones sold abroad by as much as 40 percent to offset the declining value of foreign sales when they're converted to dollars. Those higher prices hurt Apple's ability to compete. Industrial giant Honeywell International Inc. is trimming its sales forecast this year by $600 million and hedging in the currency markets.
Since Donald Trump's surprise win on Nov. 8, the Bloomberg Dollar Spot Index has gained 2.8 percent on expectations for rising interest rates, even as he told the Wall Street Journal the strong U.S. currency was "killing us" and criticized China for keeping the yuan artificially low. Before the election, the greenback was already trading near the highest in more than a decade.
"Foreign exchange is a bit of a problem for Apple and any U.S. company that has any business overseas," Apple Chief Financial Officer Luca Maestri said in an interview. "The dollar is very strong."

Earnings for Standard & Poor's 500 companies are forecast to rise 11.9 percent this year after falling an estimated 0.4 percent in 2016, according to analysts' estimates compiled by Bloomberg. That would be the fastest annual earnings growth since 2011. For the 259 companies that have reported fourth-quarter results so far, profit has expanded 5.8 percent from a year earlier and revenue has risen 4.2 percent, according to data compiled by Bloomberg.
A stronger dollar may hinder future profit gains, however. Every 10 percent increase in the U.S. currency trims about 3 to 5 percentage points off earnings growth for the S&P 500, said Mark Luschini, chief investment strategist at Janney Montgomery Scott LLC.
"For those penciling in 10 percent to 12 percent earnings growth, that shaves it quite a bit," he said. "That could have some pressure on equity prices."
While the dollar has weakened about 3 percent since reaching a 14-year high last month, it remains above the average level for 2016. And companies are still feeling the effects of a yearlong, 19 percent surge in the dollar beginning in the summer of 2014. Coupled with a plummet in oil prices, the surging dollar led to declines in S&P 500 earnings that lasted five quarters.
Gross's 'Concern'
If Wall Street is right, companies face more dollar appreciation under Trump. Against the euro, for example, the consensus is for the dollar to strengthen to $1.05 at year-end from about $1.08 now.
Read more: Why the strong dollar has been an article of faith - a primer
Bill Gross, the billionaire bond investor, says the president's policies are fueling a powerful dollar and an undervalued Mexican peso, both of which are bad for the U.S. and global economy.
"I think the dollar is a concern," Gross, who manages the $1.8 billion Janus Global Unconstrained Bond Fund, said in a Bloomberg TV interview Wednesday. "It is the global currency. To the extent that the dollar strengthens, not only are U.S. companies affected to the negative, the global marketplace and global countries are affected too."
Honeywell, which makes products ranging from jet engines to work boots, has locked in the euro at $1.15 and hedges other currencies to protect its profits. The company had to cut the top range of its 2017 sales forecast to $39.5 billion from $40.1 billion "solely due" to foreign exchange, said CFO Tom Szlosek.
For Eaton Corp., which makes parts for heavy trucks, aircraft and earth-moving equipment, the strong dollar has erased $2.5 billion of revenue since 2013 and will likely reduce sales by $300 million this year, Chief Executive Officer Craig Arnold said in an interview.
"The U.S. dollar strength has really been a big negative for us in terms of revenue for the company for four years in a row now," he said. "If you're an exporter, it makes the goods and services that you sell around the world more expensive."
Wild Card
A wild card for the dollar is Trump's plan to overhaul corporate taxes. Republicans have floated the idea of a 20 percent border-adjustment tax on imports as a way to encourage more manufacturing in the U.S. That plan could cause as much as a 25 percent gain for the dollar, according to a report by the Peterson Institute for International Economics. 
United Technologies Corp., which produces jet engines and elevators, said in December it expects the strong dollar to reduce 2017 sales by $600 million. 3M Co. said currency fluctuations will lower its per-share earnings by 20 cents in 2017 even after factoring in the company's hedging.
Harley-Davidson Inc. CEO Matthew Levatich and other company officials met with Trump Thursday in one of the president's sessions with corporate executives, but it wasn't clear if the subject of the U.S. currency came up. The biggest factor keeping the company's profit margins from expanding will be the strengthening dollar, CFO John Olin said Jan. 31.
"We're concerned about currency going forward and expect that to be a $20 million to $25 million hit if exchange rates stay" at early 2017 levels, Olin said on a call with analysts.