Trump's Fiduciary Rule Order Seen Unlikely to Stop Fee Shift
By
President expected to sign an executive order Friday

Dodd-Frank regulations also in administration's crosshairs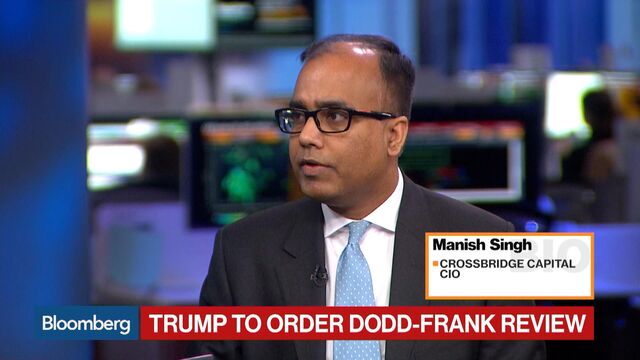 President Donald Trump's executive order to halt the Department of Labor's fiduciary rule is unlikely to derail the customer-friendly changes already under way in response to the Obama-era regulation.
"We plan to go forward with the majority of the work we've done," said Bill Morrissey, managing director of business development at LPL Financial Holdings Inc., echoing executives at several investment-management firms. "What investors want is more transparency and lower fees."
A White House official said the president will sign an executive order Friday to delay the rule, which was reviled by many in the financial industry. The regulation, which had been set to take effect in April, requires advisers handling retirement accounts to work in a client's best interest and charge reasonable compensation. Although it's unpopular on Wall Street, brokers have already been altering products and lowering commissions in preparation for its implementation, and investors have been migrating toward low-cost funds.
Morgan Stanley, one of the biggest U.S. brokerages, said on Jan. 26 that it plans to move ahead with changes designed to comply with the fiduciary rule, despite uncertainty over whether the regulation will be implemented. Insurers including American International Group Inc. and Principal Financial Group Inc. stressed after Trump's victory that they would continue to forge ahead as though the rules would be carried out.
"My expectation is that a lot of firms are going to continue installing a best-interest standard, regardless," said Brian Graff, chief executive officer of the American Retirement Association, a group that represents pension professionals.
Read more: Trump undoing Obama-era financial regulations
Trump is also expected to sign an executive action Friday that will order a sweeping review of another set of financial regulations known as the Dodd-Frank Act, which was enacted in response to the 2008 financial crisis. Together with the fiduciary rule, the moves are the most aggressive steps yet by the new administration to loosen regulations in the financial-services industry. The actions are designed to lay down the Trump administration's approach to financial markets, with an emphasis on removing regulatory burdens and opening up investor options, said the White House official, who briefed reporters on condition of anonymity.
Trump adviser Anthony Scaramucci, who previously ran money manager SkyBridge Capital, has promised to repeal the fiduciary rule. He told InvestmentNews it discriminated against brokers, comparing it to the Supreme Court's 1857 ruling in the Dred Scott case that African-Americans weren't citizens. Industry groups have sued the Department of Labor in an attempt to block the rule.
The industry's objections were mainly that the rule allows investors to bring class-action lawsuits over violations, Graff said. That would be a change from the current system, where most brokerages require clients to agree to arbitrate disputes and forgo class-action lawsuits.
"It's the way the rule goes about trying to enforce the standard that people object to the most," Graff said.
Confirmation Hearings
Isaac Boltansky, a policy analyst with Compass Point Research & Trading LLC, said the industry will be watching the confirmation hearings of the nominees for Labor secretary and Securities and Exchange Commission chairman for more detail on the administration's fiduciary-rule plans. Most of the big brokers will continue preparations, though some smaller firms may wait to make changes, he said.
"There are going to be some opportunistic players who decide to gamble that the rule is dead, not hibernating," Boltansky said.
— With assistance by Steve Dickson, Hugh Son, and Katherine Chiglinsky
Before it's here, it's on the Bloomberg Terminal.
LEARN MORE