business
Spanish Soccer Catches Up With Germany's Bundesliga in Revenue
By and
League forecasts $3.6 billion in sales for this season

Spain's La Liga sets English Premier League in its sights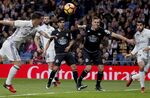 Spain's professional soccer league expects to see revenue grow to 3.3 billion euros ($3.6 billion) this season, an increase that puts La Liga on pace to be richer than Germany's Bundesliga within a year or two.
Teams generated profits of 201.2 million euros on sales of 3 billion euros last season, according to league results presented by La Liga Chief Executive Officer Javier Tebas in Madrid on Friday. FC Barcelona and Real Madrid are still the dominant money-makers, accounting for one-third of the total revenue, but their share is shrinking -- it's down from about 50 percent as recently as 2012.
La Liga is in the midst of a substantial financial turnaround. Sales have grown by 59 percent since the 2011-12 season, largely due to the league's first collective media rights deal -- a top priority of Tebas since he was hired four years ago. The deal settled years of wrangling among Barcelona, Real and the other clubs, which previously negotiated their own TV rights contracts.
The top two still earn more -- this season, they'll get a payout 3.5 times bigger than their smaller competitors -- but the league is inching closer to parity as the smallest clubs have boosted their broadcast income.
Higher revenues and better management have reduced teams' indebtedness. Net debt has fallen to 948 million euros from a high of 2 billion euros at the end of the 2011-12 season.
La Liga's ultimate goal is to draw within 15 percent of the world's richest soccer competition, the English Premier League, Tebas told reporters Friday.
"We don't speak any more about debt but about strategies for the future and value creation," Tebas said. "We are going to continue with the control of the budget but the goals now are of growth and competition with other leagues."
La Liga now generates as much revenue as the Bundesliga but the Premier League is way ahead, with estimated income of 5.8 billion euros for this season. Eight of the 20 richest teams in Europe are English, while three are Spanish.
"The top two La Liga teams can attract the very best talent but the Premier League teams can attract a breadth and depth of talent that makes the competition compelling for overseas viewers and sponsor interest," Dan Jones, a partner at Deloitte LLP, said by phone.