Warren Urges Cohn to Shun 'Indirect' Impact on Goldman Sachs
By
Senators also call on former banker to pay capital gains taxes

Cohn is joining Trump administration as top economic adviser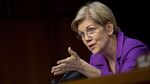 Democratic Senators Elizabeth Warren and Tammy Baldwin are calling on Gary Cohn, the former No. 2 executive at Goldman Sachs Group Inc., to recuse himself from any decisions that could affect the Wall Street bank in his new role as a top economic adviser to President Donald Trump.
Their letter was released Friday, the same day Cohn said he met with Republicans on the House Financial Services Committee while Trump is poised to order a sweeping review of banking rules enacted in response to the 2008 financial crisis.
The senators are also demanding that Cohn immediately pay taxes on about $284 million in pent-up bonuses, stock holdings and other investments he received upon leaving Goldman Sachs. Under a federal law that's designed to help new government officials comply with ethics standards, Cohn could be eligible to defer taxes on gains he'd realize by divesting his stake in the bank he's worked for since 1990.
Cohn's new role "requires a leader who does not play favorites, but focuses on every aspect of the economy, and a leader who will pay as much attention to the needs of the middle-class worker that drive the U.S. economy as he or she will to the billionaires that sit at the top," Warren, a Massachusetts Democrat, and Baldwin, a Wisconsin Democrat, said in the letter.
The White House didn't immediately respond to a request for comment.
Cohn's Compensation
To help Cohn avoid conflicts of interest as Trump's top economic adviser, Goldman Sachs let its former president immediately collect about $65 million in cash and stock that would have been tied to the bank's future performance. That's on top of roughly $220 million of Goldman equity he already held or was awaiting, as well as stakes in company-run investment funds, according to regulatory filings last month.
Cohn, 56, stepped down as Goldman's president and chief operating officer in December after agreeing to lead Trump's National Economic Council, an influential panel that helps coordinate and develop the president's economic program. He had started at the bank in 1990, becoming co-president in 2006, and then sole president. He was long seen as the heir apparent to Chief Executive Officer Lloyd Blankfein. For 2016, the bank awarded Cohn $20 million in pay.
By law, Cohn can apply for a so-called certificate of divestiture, which would allow him to sell his common shares while deferring the capital-gains tax -- provided that he reinvests in approved securities such as mutual funds or Treasury bills that won't trigger potential conflicts of interest. In effect, people who use the process can defer paying capital-gains taxes until they sell the new, replacement assets.
Recusal Periods
The senators' letter says that beyond a typical recusal, which focuses on decisions that directly affect an appointee's former employer, Cohn should also recuse from matters that might "have a significant indirect impact on Goldman Sachs" for as long as he serves in the administration.
That standard "would be unrealistic and crippling," said Stan Brand, an ethics specialist at Akin Gump Strauss Hauer & Feld LLP. "You might as well say that people who are in the private sector can never work for the government."
The senators' letter also notes that "typical recusal periods for conflicted government officials are one full year." Members of Trump's administration will be required to sign pledges that double that time frame under an executive order the president signed Jan. 28. Those pledges will prevent appointees, including Cohn, from participating in matters that are "directly and substantially related to my former employer or former clients, including regulations and contracts" for two years.
Cohn, speaking on Bloomberg Television Friday morning, said he and the Trump administration are focusing on business regulation -- including financial-services regulation -- as a top priority.
"We're going to attack all aspects of Dodd-Frank," Cohn said. The president has called for sweeping changes in regulations, along with a tax overhaul and an ambitious infrastructure-improvement program, as his top priorities.
On taxes, Cohn said Friday during a Friday interview with Fox Business News that he has been meeting with members of Congress and working on two key goals, he said: cutting corporate income taxes and individual income taxes -- "especially for lower earners."
'Unintended Consequences'
"We're not spending a lot of time with the high earners," Cohn said. He said any tax overhaul will be done only after Congress makes changes to the Affordable Care Act, also known as Obamacare. For now, the administration is weighing various tax options, with an eye toward understanding "both the intended and unintended consequences," he said.
A senior administration official last week told Bloomberg News that Trump was warming up to a proposal favored by House Speaker Paul Ryan. That plan would replace the existing 35 percent corporate income tax with a 20 percent tax on businesses' domestic sales and imports; exports would be excluded from federal taxes.
While companies that are net exporters tend to favor that so-called border-adjusted tax, retailers, oil refiners and other industries that rely heavily on imported materials have said it could result in far higher consumer prices.
— With assistance by Bill Allison, Dakin Campbell, and Elizabeth Dexheimer
Before it's here, it's on the Bloomberg Terminal.
LEARN MORE