May Seeks to Ride Brexit Wave Targeting Historic By-Election Win
By
Conservatives are aiming for rare gain for a ruling party

New UKIP leader Nuttall threatens Labour in Brexit citadel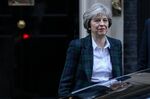 Elections later this month to fill two vacancies in the U.K.'s House of Commons have the potential to make history.
There's the rare chance for Prime Minister Theresa May's governing Conservatives to gain a seat from the opposition, while the U.K. Independence Party sees an opportunity in one of the most pro-Brexit parts of the country. Defending its hold on both districts is Jeremy Corbyn's Labour Party, split over its stance on the European Union and trailing badly in national polls.
A fifth of Labour lawmakers defied Corbyn in Parliament on Wednesday to vote against legislation allowing the premier to trigger Brexit. By-election defeats for Labour would raise more questions about Corbyn's future, though he easily saw off a leadership challenge last year with the support of rank-and-file party members.
Background to the Battlegrounds
The two elections were called because pro-EU Labour lawmakers, both opposed to Corbyn's leadership, quit Parliament for jobs outside politics. The votes will be held Feb. 23 amid parliamentary debates over legislation to let May formally trigger Brexit by the end of March.

Labour is under pressure from UKIP in Stoke-on-Trent Central, in the English Midlands. Stoke, home of the English pottery industry, is the city that posted the biggest "Leave" vote in the EU referendum last year. Also strongly pro-Brexit is Copeland, in northwest England, a constituency that includes the Sellafield nuclear plant, hill farms and parts of the Lake District National Park. May's Conservatives lead the challenge to Labour there.
May Is Riding High
It's a bad moment for Corbyn to be facing these votes. Labour has slumped in national opinion polling and the Tories have gained since May succeeded David Cameron as Conservative leader and prime minister following the referendum.

Polls also show May comfortably outstripping Corbyn in individual approval ratings. A gauge of Labour's current difficulties comes from a ComRes poll last month that showed May is trusted more than Corbyn with managing the state-run National Health Service -- an area where Labour has held a big advantage for decades.
Once in a Generation
Still, all politics is local. And that particularly applies to by-elections. In Copeland, Labour's Gillian Troughton is campaigning against cuts to services at the local West Cumberland Hospital and expressing her support for Sellafield, a major employer, though Corbyn has a record of opposing nuclear power. Tory candidate Trudy Harrison argues that Labour, which is seeking to amend the government's Brexit-trigger bill, "want to ignore how we voted in the referendum." The Tories are the favorites with bookmakers.

While Labour's lead over the Tories in Copeland has steadily been eroded over the years, it's still a big challenge for the Conservatives to win. The last time a sitting government won a Commons seat from the opposition in a by-election was in 1982 under Margaret Thatcher, and that was in unusual circumstances: A Labour lawmaker quit to join the breakaway Social Democrats, sought re-election under his new colors, split the left-of-center vote and lost to Thatcher's Conservative candidate. The occasion before that? 1960.
Can Nuttall Succeed Where Farage Failed?
UKIP's new leader, Paul Nuttall, is running in Stoke Central, where he is seeking to double his party's Commons representation. Bookmaker William Hill Plc says most of the money staked on the vote is on a UKIP win. Support for Labour's Gareth Snell may be hit by newspaper reports of his previous vociferous opposition to both Brexit and Corbyn.

But a UKIP win would be unprecedented. Longtime leader Nigel Farage failed to gain a Commons seat on numerous occasions. And the party's only previous parliamentary-election victories have been delivered by former Conservatives running in their existing constituencies for UKIP after defecting.
What's the Form in Recent By-Elections?
In the three contested by-elections since May took over, the Tories, Labour and UKIP have all lost votes compared with the 2015 general election. The one party to pick up support has been the vehemently anti-Brexit Liberal Democrats, who gained Richmond Park in west London and came second in Witney, Cameron's old district. Both areas voted to stay in the EU.

The effect was much less marked, though, in the most recent by-election in December, in pro-Brexit Sleaford in eastern England. The Conservatives held that seat with only minor shifts in vote share for the main parties.
What Will It Take?
By-elections, with turnout generally smaller than in general elections, have produced many surprise results over the years, with big shifts in support for parties. In British elections, the scale of that shift is measured as swing. In Stoke, UKIP needs a swing of 8.4 percentage points to take the seat from Labour; in Copeland, the Tories need just 3.3 percentage points.

The big swings to the Liberal Democrats in Witney and Richmond show that such results are possible. Indeed, swings of more than 40 points have been recorded in the past. There's been no properly weighted local opinion polling, though, to test what voters really think.
Voting ends at 10 p.m. on Feb. 23. and the results are expected in the early hours of the following morning.
Before it's here, it's on the Bloomberg Terminal.
LEARN MORE