Bank of Japan Disappoints With Bond Purchases, Roiling Markets
By and
Traders wait to see if BOJ will offer fixed-rate purchases

BOJ board members argue for more flexibility in operations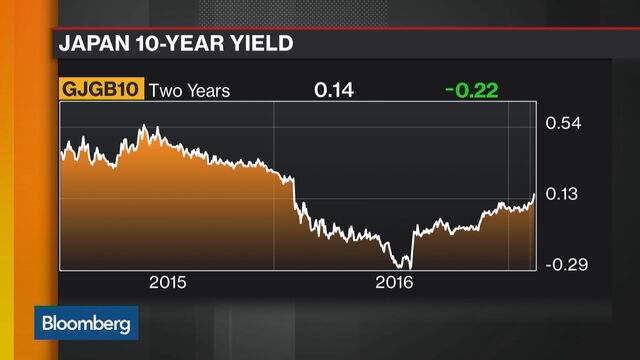 Investor confidence in the Bank of Japan's commitment to hold down bond yields was shaken Friday as the central bank offered a limited expansion of debt purchases in a regular operation, sending the yen higher and roiling government securities.
Japan's 10-year yield surged as much as 4 basis points to 0.15 percent, the highest since the Bank of Japan implemented its negative-rate policy in January 2016, while the yen advanced. The BOJ increased purchases for bonds due in five-to-10 years to 450 billion yen ($4 billion), from the 410 billion yen planned, it said.
"There were some expectations that given the level of the yield rise, the amount would be boosted more," said Souichi Takeyama, a rates strategist at SMBC Nikko Securities Inc. in Tokyo. "The focus will be on whether the BOJ will deliver further action later in the day as it still has options to rein in the rise in yields."

BOJ Governor Haruhiko Kuroda faces the challenge of seeking to hold down borrowing costs just as accelerating inflation and an improving outlook for some of the world's biggest economies push up bond yields globally. While Kuroda on Tuesday recommitted to his yield-curve control strategy to hold 10-year debt at around zero percent, he also said investors shouldn't pay too much attention to daily operations, reinforcing earlier efforts to expand the central bank's flexibility in purchases.
Many analysts interpret the BOJ's target of around zero percent to mean a range between positive and negative 0.1 percent. Still, a few BOJ board members at the December policy meeting said the central bank should avoid setting a uniform range for its management of bond yields, minutes of that gathering showed Friday.
The broader concern among some BOJ officials, along with traders, is that the current pace of purchases is unsustainable in the long run, given dwindling supply of securities readily saleable. Kuroda has committed to capping annual bond purchases at around 80 trillion yen.
"Market looks to have been looking for a broader spectrum of purchase increases to reaffirm the commitment," said Peter Dragicevich, a foreign-exchange strategist at Nomura Holdings Inc. in Singapore. "But as the BOJ minutes noted this morning, some members have called for flexibility in meeting the target."
The increased purchase Friday mirrors the scale from last week, with the BOJ so far refraining from repeating its November offer to buy an unlimited amount of bonds at a fixed rate. The central bank has the option to announce fixed-rate operations at 2 p.m. Tokyo time Friday.
Yield on the 20-year bond also climbed three basis points to 0.720 percent, while the yen gained 0.2 percent to 112.61 against the dollar.
— With assistance by Netty Idayu Ismail, and Kevin Buckland
Before it's here, it's on the Bloomberg Terminal.
LEARN MORE