The Godfather of Ibiza Nightclubs Takes a Bow After 50 Years
by
Pacha nightclub owner sells stake to Trilantic-led group

Ricardo Urgell opened his first venue in Barcelona in 1967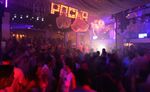 Five decades after dropping out of architecture school to take on the Spanish leisure sector, the owner of one of Ibiza's most-renowned nightclubs has relinquished some control.
An investor group led by Trilantic, the New York-based firm founded by five ex-Lehman Brothers employees, agreed to purchase an unspecified stake in Pacha Group from Ricardo Urgell, according to an e-mailed statement Friday. Urgell, who opened his first nightclub in Barcelona in 1967, will remain a shareholder. 
In August, people familiar with discussions said the deal would be valued at a "few hundred million euros." Pacha and Trilantic declined to comment on the deal value or the percentage to be retained by Urgell when contacted by Bloomberg News.
Urgell opened a nightclub in Ibiza in the seventies, ignoring financiers who claimed only a small group of "hippies" wanted to spend time on the Balearic island. "The hippies deserved a homage and a space," Urgell was quoted as saying last year.
While Ibiza's isolation attracted the 'hippy' movement in the sixties and early seventies, the rave movement coupled with the emergence of venues such as Pacha and Amnesia later helped the island to become more fashionable within the mainstream.
Before it's here, it's on the Bloomberg Terminal.
LEARN MORE