Fillon Says He Understands Outrage But Won't Quit French Race
By
Republican candidate sliding in polls after jobs scandal

Newspaper reports wife earned public salary without working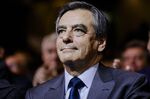 Francois Fillon vowed to cling on to his place in the race to become France's next president even as he acknowledged voters' anger at reports his family had abused public funds.
"I understand that these accusation trouble some among you because of the way they are being hammered at" and "because of the large sums" involved, the Republicans' candidate said in a video posted on Twitter after consulting with party grandees. "I will stay on track."
Polls on Friday showed Fillon has slipped into third place in the election race -- meaning he'd miss out on the second-round runoff -- after more than a week of reports he handed family members unjustified public salaries. Prosecutors on Thursday decided to widen a probe into the Fillon family's affairs and some lawmakers from within the candidate's Republican party are starting to signal his presidential bid may be over.
For an explainer on the Fillon scandal, click here
Before making his statement on Friday, Fillon spoke with former French President Nicolas Sarkozy, whom he defeated in November's party primary, Francois Baroin, a former finance minister tipped as a possible replacement, and five other senior party figures.
Before it's here, it's on the Bloomberg Terminal.
LEARN MORE