business
Ex-CEO Seeks Mercy From Court, Says 'I Am Not a Rich Big Shot'
By
Former Comverse boss spent 10 years in Africa on lam from U.S.

Alexander says flight was 'wrong,' but says he was 'terrified'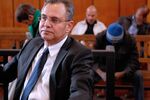 A former technology executive who spent a decade in Africa as a fugitive from justice has broken his silence, insisting he fled the country after learning that he was the second-most-wanted man by the U.S. after Osama bin Laden.
Jacob "Kobi" Alexander, 64, returned to New York from Namibia in August after fleeing in 2006, just as U.S. prosecutors were about to charge him in an sprawling options-backdating scheme. He pleaded guilty to one count of securities fraud and will be sentenced Feb. 23.
Alexander, his lawyer and some former colleagues are making a full-court press to win him leniency.
"As hard as it is for me to fully explain why I went to Namibia, it is even more difficult to explain why I stayed away so long," Alexander said in a 19-page letter to U.S. District Judge Nicholas Garaufis, in Brooklyn, New York. "I could only tell you that after I got there, I was even more terrified when I learned that my name was next to Osama bin Laden as the second worst fugitive wanted by the United States."
Skeptical Judge
Alexander, a former Israeli commando who fought in the Yom Kippur War, told Garaufis he was "terrified" the government would treat him like officials from Enron Corp. and WorldCom Inc., whose executives were convicted of fraud and sentenced to lengthy prison terms. He co-founded Comverse Technology Inc., which was the world's biggest maker of voicemail software.
"Although I have been consumed by the case for over 10 years, I have no good explanation for what I did," he said. "I am not a rich, big shot who was greedy in business and then arrogantly ran away rather than face my punishment."
When Alexander finally appeared in court last year, Garaufis blasted Alexander for only showing up after federal prosecutors agreed to drop dozens of other charges against him. "After 10 years of waiting for him to show up, he did come back but not with empty hands," the judge said. "He came back with a deal."
Noting that Alexander fought extradition from Namibia for years, the judge ordered Alexander jailed immediately saying he couldn't be trusted to remain free on bail. "I wasn't born yesterday," the judge said.
Seeking Leniency
Alexander's lawyer Benjamin Brafman, whose clients include price-hiking former drug executive Martin Shkreli, wrote an unusual 20-page letter to Garaufis on Alexander's behalf. "In almost 40 years of practice, I do not believe I have ever been involved in a case in which the defendant has been so publicly vilified when, in truth, he is one of the most extraordinary men I have ever met."
Of the thousands of companies investigated for options backdating, only 29 executives have been prosecuted by federal or state authorities, Brafman said. Of the nine who pleaded guilty, Brafman said eight were sentenced to an average term of 4.6 months in prison while those who went to trial received an average sentence of 11 months. 
Brafman urged Garaufis to impose a term of between 18 to 24 months in prison and noted his client has already paid the U.S. Securities and Exchange Commission a $6 million civil penalty. Alexander separately paid $60 million to settle a civil suit.
The government hasn't yet submitted a sentencing memo. John Marzulli, a spokesman for Brooklyn U.S. Attorney Robert Capers, declined to comment on Alexander's sentencing papers. The U.S. had also charged Alexander with trying to bribe witnesses against him. In August, prosecutor James Loonam called Alexander "both cunning and resourceful."
To counter the government's claims, the former CEO recruited two former co-defendants in his case to write letters seeking leniency on his behalf.
William Sorin, Comverse's former general counsel, who was sentenced to year and a day in prison, wrote to the court saying Alexander wasn't motivated by greed. Instead, Sorin said options backdating "had become a competitive necessity."
Before it's here, it's on the Bloomberg Terminal.
LEARN MORE