ECB Puzzles Over Question of Whether Recovery Is for Real
By and
Draghi argues economy remains dependent on monetary stimulus

Recent economic data indicate that upswing may be cyclical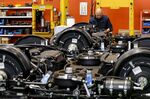 When is a recovery not a recovery?
While an economic upturn is clearly under way in the 19-nation euro region, a fundamental question for the European Central Bank is whether it is a bona fide cyclical revival or if it is purely supported by monetary stimulus. Which view policy makers back will help determine how quickly they unwind asset purchases and start to raise interest rates.
Since ECB President Mario Draghi's push to extend quantitative easing garnered broad consensus just two months ago, a rebound in inflation and an improving outlook have amplified calls for a shift in policy. German officials in particular, already supportive of starting policy normalization, are waiting for confidence to build among their peers to tip the balance in favor of an exit.
"Draghi is erring on the cautious side; what he doesn't want to do is act too soon and be forced to backtrack," said Holger Sandte, chief European analyst at Nordea Markets in Copenhagen. "Core inflation will be key. As long as it remains subdued, the doves have a case. That is not to say the hawks will go quiet. They're going to get bolder and louder as they see confirmation in the data."
Draghi's caution is being fed by risks including protectionist rhetoric from the new U.S. administration, Brexit and an election-heavy year in Europe. Euro-skeptic parties are gaining support ahead of national votes in some of the region's largest economies, threatening to once again put the single currency's future on the line.
The ECB president said in a speech in Ljubljana on Thursday that Europe shouldn't turn its back on free trade and open borders in the face of rising nationalism and global insecurity.
Everything You Must Know About Europe's Hottest Political Events
Another concern is continued weakness in underlying price pressures, with core inflation failing to top 1 percent for more than a year. A pickup in headline inflation to a level effectively in sync with the ECB's goal of just below 2 percent hasn't convinced Draghi, who wants more certainty it will prove durable and broad-based.
"The core of our analysis will be 'is this higher inflation sustainable?'" ECB Executive Board member Benoit Coeure said in a speech in Paris on Thursday. "The conclusion today is: no."
Faster inflation also has implications for the consumer-led recovery if wages don't rise to offset higher prices, and another issue is the persistent divergences between the region's northern and southern economies.
While Draghi has argued that a "very substantial degree of monetary accommodation" is still needed, a slew of data this week provide ammunition for those in favor of timely exit talks.

The economy grew at the fastest pace in three quarters in the last three months of 2016 as unemployment fell to the lowest level since 2009. Confidence hit a six-year high in January and manufacturing accelerated.
Bundesbank President Jens Weidmann is probably one of the most faithful adherents of the view that cyclical upturn has taken hold.
"Despite the perception given by some discussions, economic prospects for the euro area are not that bad," he said on Jan. 26. "The output gap is slowly closing and employment continues to increase. And if factories are busier again and more and more people find jobs, wages and prices will rise faster as well."
Weidmann, a frequent critic of QE, has argued that higher inflation will depress real interest rates, providing a de facto easing that allows the ECB to gradually phase out asset purchases while keeping policy supportive of the recovery. Executive Board member Sabine Lautenschlaeger, a fellow German, has openly called for a talks on unwinding stimulus to start soon.
Encouraging Prospects
"Growth prospects for the euro area are encouraging, and while core inflation remains weak, risks are no longer to the downside," said Peter Nagle, an economist at the Institute of International Finance in Washington. "The ECB can justify its downside scenario until June. By then it will have to recognize that the outlook has changed."
Nagle predicts the ECB will strike a more hawkish tone as the year progresses, adjusting its forward guidance following the French election in May, and announcing in October -- after Germany picks a new chancellor -- that tapering will start in early 2018.
Meanwhile, the ECB this week gave its own cautious assessment in the debate over the nature of the economic revival.
"Although the recovery has been gradual and moderate, there is evidence that it is becoming more broadly based and firmer, both in terms of country developments and across sectors," the central bank said in its Economic Bulletin on Thursday. "This bodes well" and is in "sharp contrast to the short-lived recovery in 2009-10, when growth was relatively uneven."