Brexit Bulletin: In Case of Emergency
David Cameron had no contingency plan prepared for his Brexit loss. Theresa May wants to avoid that mistake.
by and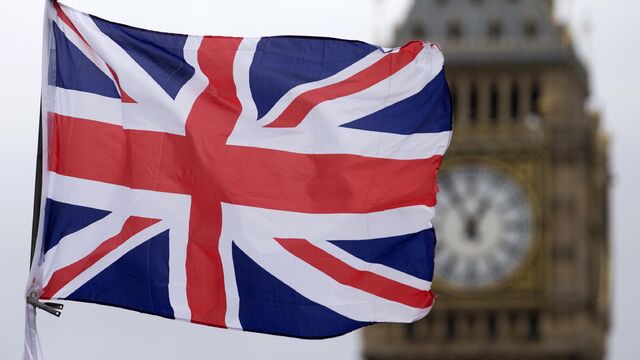 Sign up to receive the Brexit Bulletin in your inbox, and follow @Brexit on Twitter.
Prime Minister Theresa May has a plan in case of failure.
Tucked away in the final pages of the government's 75-page plan for the Brexit negotiations was the line that the government would draft emergency laws to protect the economy in the event that the talks break down without the sweeping free trade deal May wants.

"The government is clear that no deal for the U.K. is better than a bad deal for the U.K.," the white paper said. "In any eventuality, we will ensure that our economic and other functions can continue, including by passing legislation as necessary to mitigate the effects of failing to reach a deal."
The government also warned of financial market disruption if banks can't secure access to the EU.
The contingency work suggests a desire to avoid repeating the mistake of May's predecessor, David Cameron, who entered June's referendum without a plan for losing, leaving the U.K. unprepared for Brexit.
Some criticized the white paper, released Thursday, for lacking depth and for assuming the U.K. can enjoy too many of the advantages of EU membership, including easy trade, while giving up the responsibilities such as free movement of people.
"The administration is misjudging both the political and practical scale of the task ahead," said Malcolm Barr, an economist at JPMorgan. "We see increasing grounds for concern that the plan as constituted cannot be credibly constituted."
The document serves as the basis for the next round of parliamentary talks on handing May the power to start the Brexit talks by the end of June. Some of May's fellow Tories said on Thursday they want a binding vote on the draft deal before it's too late to be changed, while others want more assurances on the future of EU citizens already in the U.K.
Postcard from Malta
May will join her (for now) fellow EU leaders for talks in Malta on Friday, where she will try calm nerves about U.S. President Donald Trump.

Taking advantage of her one-on-one meeting in the White House a week ago, May will paint herself as having an inside track with Trump, perhaps hoping it will give her leverage over her EU counterparts in the Brexit talks.
Backing the wrong side would, however, have repercussions. "It's pretty clear she needs to choose her priorities well," Maltese Prime Minister Joseph Muscat told Sky News. 
Also on Friday, two U.K. judges threw out a lawsuit that wanted to force parliament to vote on whether Britain should remain in the European Union's single trading market — which would be in addition to any vote on leaving the EU.
Frankfurt Eyes 10,000
As the race to raid Britain's banking talent heats up, Frankfurt's lobby group said it expects to draw as many as 10,000 finance jobs from London over the next five years.
It anticipates the exodus beginning imminently, Hubertus Vath of Frankfurt Main Finance said on Thursday at a London conference organized by City and Financial.
"We're not talking months any more," Vath said. "We're talking weeks."
Citigroup, Goldman Sachs and UBS are already said to be considering the German financial capital as their new EU hub. Vath acknowledged Germany's tight labor laws are a deterrent but said politicians were reviewing them.
Deutsche Bank Chief Regulatory Officer Sylvie Matherat said the bank "won't be a first mover" on shifting staff.
Separately, Spain's securities regulator said it plans to increase its workforce by about 15 percent as part of its plan to cope with potential demand from investment firms after Brexit. Ireland's central bank said it is hiring "immediately'' to quicken authorizations for firms wanting to work there.
U.K. Plc Taking Over
U.K. companies are making more acquisitions abroad than they were before the referendum despite the falling pound making their targets more expensive by a fifth in dollar terms.
Reckitt Benckiser's $16.7 billion surprise bid for baby food producer Mead Johnson Nutrition this week was the second U.K. suitor in a month to make a move on a U.S. target. The first — British American Tobacco's agreement to purchase Camel cigarettes maker Reynolds American for almost $50 billion — was the biggest overseas buyout by a U.K. firm since 2008.
Despite sterling's slide, British companies will generate sales in other currencies that can then be swapped back to the U.K. at a premium, Bloomberg's Manuel Baigorri and Ruth David note.
All told, British buyers have announced almost $126 billion of cash or cash-and-stock deals for targets outside of the country since the referendum. That's up 72 percent from the same period a year earlier.
Brexit Bullets
AstraZeneca Chief Executive Pascal Soriot said the U.K. will need its own drug agency after Brexit
Scotland to vote on Tuesday on May's draft plan to trigger Brexit
Dutch Prime Minister Mark Rutte said Brexit would cause substantial economic damage to the U.K.
The U.K. lawmaker who represents London's financial district in Parliament said he sees the risk of "very little progress" in Brexit negotiations a year from now. "I'm slightly pessimistic," Mark Field said.
Trump's possible envoy to EU, Ted Malloch, called for more referendum votes in Europe
On the Markets
Brexit has brightened the outlook for U.K. solar funds, with higher power prices lifting earnings for the industry and prompting trading volumes at three London-listed U.K. solar funds to more than double since June, according to Bloomberg's Anna Hirtenstein.
And Finally…
The government's white paper was barely a week in the works, and it may have shown. Forced upon her by disgruntled Conservatives, May only agreed on Jan. 25 to publish the document.
The chatter in Westminster was that it only reached the printers in the pre-dawn hours of Thursday, with some noting on Twitter that time stamps on some of the pages suggested the final version was only completed after 4 a.m.
Sections of it were copied word-for-word from May's speech in London last month.
Errors were also spotted. Page 32 of the report appeared to suggest Britons are allowed a minimum of 14 weeks of paid vacation per year. It was later corrected to show the correct amount of about 5 weeks.
For more on Brexit follow Bloomberg on Twitter, Facebook and Instagram, and see our full coverage at Bloomberg.com
Before it's here, it's on the Bloomberg Terminal.
LEARN MORE