Bank of Japan Whipsaws Markets in Tussle Over Yield Control
by and
BOJ first disappoints with lower-than-expected debt purchases

Central bank then offers to buy unlimited amount at fixed rate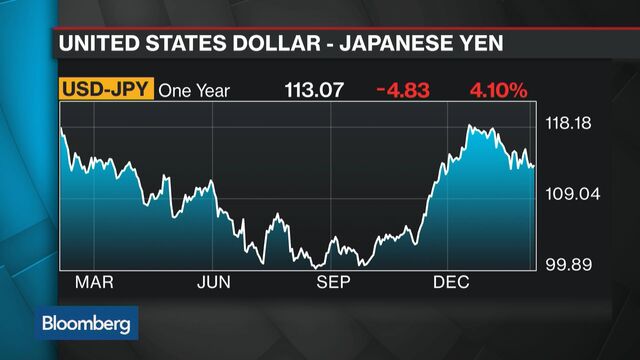 The Bank of Japan whipsawed markets as it fought to assert control over rising bond yields.
The Japanese central bank first disappointed with a smaller-than-expected increase in bond purchases Friday morning, which spurred the 10-year yield and the yen to advance. Its unscheduled offer later to buy an unlimited amount of debt for some maturities sent rates and the currency falling.
"The operation was a surprise aimed at definitely stopping the rise in yields," Takenobu Nakashima, quantitative strategist at Nomura Securities Co. "What's astonishing is that the BOJ is offering to buy at yields lower than where the markets are. In other words, the BOJ will pay to buy, showing that it wants to halt the yield even at its cost."

Investors are testing BOJ Governor Haruhiko Kuroda's resolve to maintain a five-month old policy of holding 10-year debt at around zero percent, as Japan increasingly looks out of step with the improving outlook for the global economy. While the central bank has said it wants to have more flexibility in its operations, the moves Friday raise questions over its communication strategy.
Japan's 10-year yield fell 1.5 basis points to 0.095 percent as of 3:28 p.m. in Tokyo after rising as high as 0.15 percent. The yen fell 0.2 percent to 113.06 against the dollar, reversing a gain of as much as 0.3 percent.
"The BOJ has shown its willingness to contain the surge in yields, but seems to have failed to communicate well with markets," said Souichi Takeyama, a rates strategist at SMBC Nikko Securities Inc. in Tokyo.
Benchmark Rate
The BOJ's offer to buy an unlimited amount of debt with maturities of more than five years to 10 years drew 723.9 billion yen ($6.4 billion) of interest, it said. The central bank had offered to buy the benchmark notes at 0.110 percent. Earlier, at its regular operations, it expanded purchases for bonds due in five-to-10 years to 450 billion yen, from the 410 billion yen planned.
The BOJ carried out the fixed-rate operation to properly implement its 10-year bond yield target of around zero percent, given the sudden rise in long-term yields, said an official in the central bank's Financial Markets Department.
Kuroda defended the BOJ's yield-curve control strategy in front of lawmakers Friday, arguing that Japan needs to continue with "powerful easing" given that it's still far from reaching a 2 percent inflation target.
While Kuroda on Tuesday recommitted to his yield-curve control strategy, he also said investors shouldn't pay too much attention to daily operations. A few BOJ board members at the December policy meeting said the central bank should avoid setting a uniform range for its management of bond yields, minutes of that gathering showed Friday.
The broader concern among some BOJ officials, along with traders, is that the current pace of purchases is unsustainable in the long run, given the dwindling supply of securities readily saleable. Kuroda has committed to capping annual bond purchases at around 80 trillion yen.
Before it's here, it's on the Bloomberg Terminal.
LEARN MORE