markets
Reckitt Benckiser's CEO Pins His Future on a $16.7 Billion Baby Food Deal
By
Mead Johnson deal could lift shadow hanging over CEO Kapoor

Purchase would 'set Reckitt Benckiser on a new path:' analyst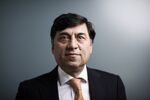 Last year was tough for Rakesh Kapoor. The chief executive officer of Reckitt Benckiser Group Plc grappled with slowing revenue growth, boycotts stemming from toxic disinfectants in South Korea, and shareholder ire over his $33.6 million pay package. Just a month into 2017, Kapoor is seeking to put all that behind him with a surprise $16.7 billion overture to buy baby-food maker Mead Johnson Nutrition Co.
The purchase would give the maker of Lysol cleaners, Nurofen painkillers and French's mustard a strong position in a fast-growing new category, and earn it a place alongside consumer-product giants such as Unilever, Nestle, Danone and Procter & Gamble Co. 
Perhaps equally important for Kapoor, a deal -- the company's biggest-ever -- would finally pull the 58-year-old native of India out from the shadow of Bart Becht, his predecessor, who presided over a sixfold increase in market value during his 12 years at the British company.
"There has always been the feeling that he was just following on and improving the work of his predecessors," said Sanford Bernstein analyst Andrew Wood, noting that the day RB announced Kapoor would replace Becht, its shares dropped 7.5 percent. "Today's deal is clearly his, and would set Reckitt Benckiser on a new path."
For more on the proposed terms of the Mead deal, please see here
To reach that path, Kapoor will have to fend off any rival suitors that might emerge and finalize the purchase, which is in advanced negotiations. Kapoor must also convince investors that it makes sense to add baby food to a sprawling portfolio of household products that already ranges from hot sauce to condoms.
While Kapoor has been on the hunt for deals, and speculation has been rife for years that Mead Johnson would be bought, Reckitt Benckiser was an unlikely suitor as infant formula was far from its core business of over-the-counter health-care remedies. But Kapoor has a track record of aggressively entering new arenas, outbidding Bayer AG to buy vitamin and supplement maker Schiff Nutrition for $1.4 billion in 2012.
Adding Mead Johnson's $3.7 billion in revenue, half of which comes from Asia, could accelerate RB's sales growth, which has slowed due to deflation in Europe and weakness in Russia and Brazil. The baby-food market will expand by 6 percent or more over the next five years, data tracker Euromonitor predicts, more than double the pace of the broader packaged-food sector.

A purchase would also help offset last year's missteps. Sales in South Korea plummeted after the deaths of more than 100 people were linked to toxic humidifier sanitizers RB once sold, forcing Kapoor to make a public apology and set aside 300 million pounds ($376 million) to compensate victims. In December, an Australian court fined the company for making misleading claims about its Nurofen painkillers, which it markets for specific types of pain. 
Nearly a quarter of shareholders rejected the company's pay policy at last year's annual meeting, and Chairman Adrian Bellamy has recently met with investors to allay concerns over the lapses. Reckitt Benckiser owners reacted favorably to the Mead news, but the company's stock still trails the U.K.'s benchmark index for the past 12 months. The shares rose 0.7 percent to 7,161 pence at 1:45 p.m. in London.
One way to get shareholders off his back would be to seal the deal for Mead Johnson and expand the business, as he's done with brands like Nurofen and Durex, whose growth rates have doubled on Kapoor's watch.
"If the deal creates value for the shareholders, all past mishaps will be erased," said Christopher Bovis, a professor at Britain's Hull University Business School.
Before it's here, it's on the Bloomberg Terminal.
LEARN MORE