Your Evening Briefing
Here are today's top stories
Bloomberg News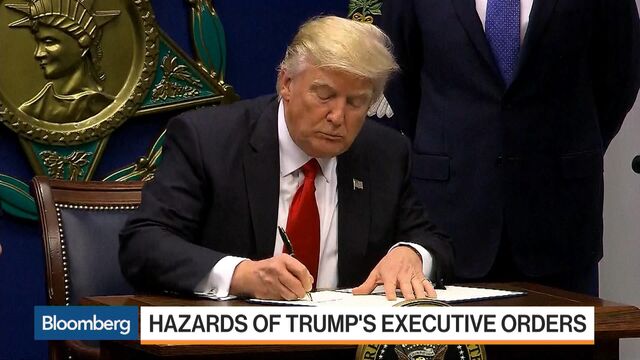 Want to receive this post in your inbox every afternoon? Sign up here.
Good afternoon. To quote one University of Minnesota journalism professor's oft-repeated phrase: "Words have meaning." The reminder resonates this week, as pundits argue whether Trump's immigration order should be called a "ban," Trump's tweets throw alliances into chaos, the GOP rebrands "repeal and replace" with "repair," and Bloomberg reporters annotate the complexities of Brexit negotiations. –Emily Banks
Stability is good for business, and Trump's whims threaten it. Everything Trump literally said is coming literally true; everything the serious people heard remains an unserious hope. Businesses may eventually get the tax and regulatory reform they wanted, but it's not a priority.  If the president can, without consulting the courts or Congress, banish U.S. lawful permanent residents, then he can do anything. If there's no rule of law for some people, there's no rule of law for anyone. Business leaders are waking up to that reality.
Some Republicans in Congress are talking more about trying to "repair" Obamacare, rather than simply calling for "repeal and replace." The repair language was discussed by Republicans during their closed-door policy retreat last week. Some of that discussion flowed from views that Republicans may not be headed toward a total replacement. The first legislative effort to make changes to Obamacare got underway in the U.S. House today.
One tiny widget's journey shows how critical Nafta has become. As Trump seeks to rewrite Nafta and other trade accords in an effort to bring jobs back to the U.S., he would do well to follow the meandering path of a single lowly capacitor, a pinkie tip-sized component that stores electrical energy. Its journey illustrates how U.S. manufacturers rely on numerous border crossings and thousands of miles of travel to produce goods at a low cost and high quality.
Defying Trump and getting fired may have improved Sally Yates's job prospects. While some law firms may shy away from hiring the former acting U.S. attorney general for fear of offending Trump, more are likely to be ambivalent about the dramatic finale, or view it as a badge of honor. On top of that, she can look forward to a pay raise in the private sector.
A deep-dive on Theresa May's plans for Britain's exit from the EU. The prime minister's Conservative government unveiled a white paper outlining its proposals for Brexit negotiations, and Bloomberg reporters are examining and annotating them line by line. At a press conference today, Mark Carney warned that surprises could still be ahead as the U.K. starts the formal process of leaving the EU, and the Bank of England is ready to respond accordingly.
Getting married costs more than ever. The average cost of getting married in the U.S. is $35,329, the highest since The Knot first began collecting data in 2007. The big day is least expensive in Arkansas at an average of $19,522. Manhattan is the most expensive place to get married in the U.S., with a massive $78,464 average spend.
Here's how to find the best travel agent. Fashion designer Karen Walker logs 155,000 air miles annually overseeing sales of her privately held label in stores across 40 countries. Traveling has always been in her blood, though–her father had the first travel agency in New Zealand. Here she lets us in on a lifetime of advice.

Before it's here, it's on the Bloomberg Terminal.
LEARN MORE