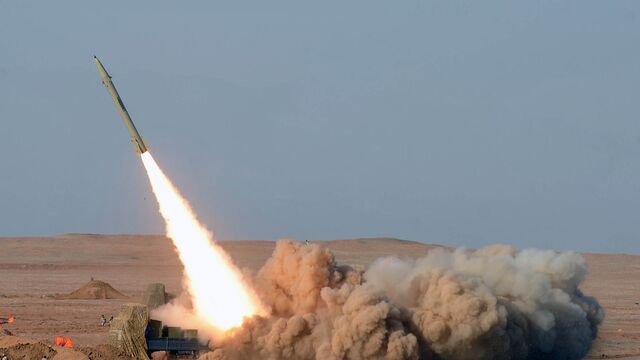 Donald Trump's administration wants the world to know it's got a wary eye on the Islamic Republic of Iran. The U.S. imposed new sanctions on Iran after it carried out a ballistic missile test. There's history here. As a candidate, Trump condemned the 2015 nuclear accord -- which eased economic sanctions in exchange for limits on Iran's nuclear program -- as a "disaster" for offering too many concessions to a longtime foe.
1. What triggered the escalation? 
The missile test confirmed by Tehran on Feb. 1 was the fifth since the 2015 agreement between Iran and world powers. But it was the first since Trump took office, and he chose an aggressive response. "As of today, we are officially putting Iran on notice," said his national security adviser, Michael Flynn, a warning Trump hammered home with a Twitter message. 
2. Why is Iran launching missiles?
It says missile tests are a sovereign right and part of a legitimate defense program. But since its latest one came just days after Trump included Iran in a list of seven Muslim-majority nations whose citizens are barred from entering the U.S., there's the question of whether the launch was an Iranian reaction to a perceived U.S. provocation.
3. Did the missile test violate a UN resolution?

It's hard to tell, since there's disagreement on the resolution's meaning. In UN Security Council Resolution 2231, Iran "is called upon not to undertake any activity related to ballistic missiles designed to be capable of delivering nuclear weapons" for eight years. Iran says it neither holds nuclear weapons nor intends to develop them, so it's free to carry out tests. The U.S. sees it differently. Flynn said the Jan. 29 test was "the latest of a series of incidents" in which Iran continues "to threaten U.S. friends and allies in the region" and was "in defiance" of the Security Council.
4. What new sanctions did the U.S. impose?
The U.S. Treasury Department published a list of 13 individuals and 12 entities facing new restrictions, citing some for contributing to Iran's ballistic missile program and others for links to terrorism. They add to a tangle of sanctions the U.S. already imposes on Iran for its support for terrorism, human rights abuses, and its missile and advanced conventional weapons programs. The new sanctions aren't directed at Iran's nuclear program and wouldn't directly affect its 2015 agreement with world powers.
5. How has Iran responded?
Before the specific sanctions were announced, Defense Minister Hossein Dehghan said in comments published by local news agency Tasnim that Iran had urged the U.S. not to overreact to its missile tests. President Hassan Rouhani, the architect of the nuclear deal, and his inner circle are expected to measure their responses to Trump to avoid inflaming tensions. But that won't stop hardliners from speaking out. At Friday prayers in Tehran, Ayatollah Ahmad Khatami called the missile test "a show of our power" and lambasted "the arrogant U.S. government."
6. What might happen next?
A more contentious tone from Washington is likely to scare investors away from Iran, which already complains that existing sanctions are having that effect. That could damage re-election prospects for Rouhani, who in May will be challenged by hardliners opposed to relations with the U.S. If the White House seeks Iran's capitulation through economic pressure or the threat (or use) of military force, there could be "an explosive downward spiral," said Ali Vaez, senior Iran analyst at International Crisis Group.
7. Is Iran keeping its side of the nuclear bargain?
It largely is, according to international monitors. Under the deal, Iran retains the ability to enrich uranium for peaceful purposes. But it eliminated its stockpile of 20 percent-enriched uranium, which can be used to make medical isotopes and to power research reactors, but also could also be purified to weapons-grade at short notice. It also mothballed thousands of centrifuges and halted activity at Fordow, an enrichment site deep underground. Four International Atomic Energy Agency assessments since the deal took effect in January 2016 found Iran sticking to its obligations. In October, Iran did slightly surpass a limit on heavy water stocks it though it addressed that within weeks by shipping the surplus to Oman.
The Reference Shelf
Before it's here, it's on the Bloomberg Terminal.
LEARN MORE