business
Trump Volatility Index Takes Pharma Companies on a Wild Ride
By
Executives get conflicting signals from administration

What can they expect on Obamacare? Depends what day they ask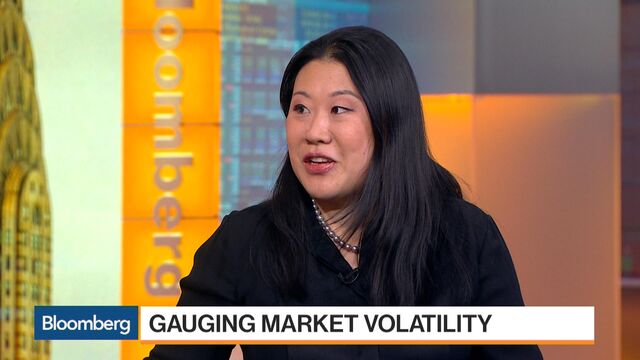 Few industries are getting the Trump Treatment quite like Big Pharma.  
Drug stocks initially jumped after Donald Trump was elected, on the bet the new president would support the industry's profits. Then they stumbled, as Trump publicly criticized high drug prices and the debate on the future of healthcare shifted by the day, or even the hour.
And now?
"You really cannot predict the unpredictable," AstraZeneca Plc Chief Executive Officer Pascal Soriot said on Thursday in London on a conference call with reporters. And Soriot's competitors at Novo Nordisk A/S cut their annual forecast Thursday, citing political risk in the U.S.
Healthcare isn't the only industry that's been whipsawed by Trump's sometimes improvised pronouncements. Retailers were hit by the proposal to tax Mexican imports to pay for a border wall. Airlines declined amid the chaos created by his executive order on immigration.
Daily Uncertainty
But healthcare, responsible for 17 percent of the U.S. economy, is unique. The government spends more than $1 trillion a year on the Medicare program for the elderly and disabled and the Medicaid program for the poor. And the U.S. plays a controlling role in the market, both in financing care and in setting rules for everything from how hospitals operate to which drugs can be sold.
So the industry, a behemoth accustomed to a slower pace of change, has found itself buffeted by daily uncertainty.
Trump's Tuesday White House meeting with drugmakers shows what executives and investors are facing. They were relieved that Trump appeared to back off government-set pricing for drugs after he slammed the industry in a pre-inauguration press conference. But after the meeting, Trump's press secretary, Sean Spicer, called Trump "a top notch negotiator," and appeared to put the pricing issue back on the table.
Merck & Co. CEO Ken Frazier said he came away from the meeting with Trump thinking the government wouldn't be using its purchasing power to negotiate down drug prices.
"We did not have a conversation that led you to believe that they think the solution to that problem is secretarial negotiations," he said today in an earnings call. "That is not perceived to be the solution to the problem."
Good Side
Executives have been trying to get on Trump's good side and quietly carve out beneficial changes. Insurers, for instance, are telling Congress they can help fix Obamacare, the nickname for the Affordable Care Act, which provides millions of Americans with health insurance. One of the proposed changes: repealing Obamacare's tax on their industry.
And Eli Lilly & Co. CEO Dave Ricks said Republicans' replacement for Obamacare should increase access to medications and provide more choices for patients.
"There's a chance to get that right this time," Ricks said in a Wednesday interview.
U.S. health insurers and hospitals may be the industries most directly affected by the uncertainty and scant details on a plan to replace Obamacare. On Thursday, Cigna Corp. CEO David Cordani told analysts the environment was "dynamic."
Aetna Inc., an insurer that's cut back on its involvement in Obamacare markets, said on Tuesday that the lack of clarity makes planning for 2018 difficult. CEO Mark Bertolini said there's "no possible way" it'll enter new Obamacare markets next year and might scale back. Still, the company would like "to help the administration transition to a new program," Bertolini said.
Little Indication
Anthem Inc., which is bigger in Obamacare, said it may begin "extracting'' itself from the health law's markets if it doesn't get more certainty from Washington.
Even Trump's allies are giving little indication of what will happen with Obamacare's replacement. The president has said that his pick to run the Department of Health & Human Services, Georgia Representative Tom Price, will help craft a new law. At a Senate confirmation hearing, Price was asked whether it's true that he's helping Trump develop a plan.
"It's true that he said that," Price replied, to laughter.
Lawmakers have held five hearings this week on the health law's insurance programs. And even the language they're using to indicate their plans is changing. Some Republicans, including House Speaker Paul Ryan, have started calling for Obamacare to be repaired rather than simply repealed and replaced. But when Fox News asked Ryan about it on Thursday, he backtracked.
"To repair the American health-care system, you have to repeal and replace this law, and that's what we're doing," he told Fox.
While the White House meeting between Trump and pharmaceutical CEOs "was positive,'' the political climate in the U.S. has grown more unpredictable, according to Lars Fruergaard Jorgensen, head of Danish drugmaker Novo Nordisk.
The political risks prompted Novo, the largest insulin maker, to pare its sales forecast and widen the range of its operating profit estimate for 2017.
"We operate in an environment that is increasingly volatile," Jorgensen, who wasn't at the White House meeting with Trump, told reporters Thursday.
"We just have to acknowledge the environment we operate in is less predictable from a policy point of view,'' he said. "It's unclear exactly what Trump is going to do. That's true for Novo Nordisk and true for anyone else."
— With assistance by Jared S Hopkins, James Paton, Anna Edney, and Chitra Somayaji
Before it's here, it's on the Bloomberg Terminal.
LEARN MORE