Trump Travel Order Under Scrutiny by Homeland Security Watchdog
By
Probe initiated after a request by two Democratic senators

Executive order generated confusion and prompted protests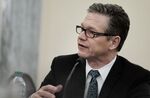 The Homeland Security Department's inspector general has launched an investigation into the implementation of President Donald Trump's executive order temporarily banning entry to the U.S. from seven predominately Muslim countries.
Inspector General John Roth notified two Democratic senators who requested the investigation that the probe was under way in a letter published Thursday. Roth didn't provide any details about the scope of the investigation and said he would notify the lawmakers about the timing for issuing a final report.
Trump's order caused confusion and prompted protests at airports nationwide after it was signed Jan. 27. Homeland Security Secretary John Kelly said an exemption for residency visa holders emerged only after the order was signed. Hundreds of immigrants and travelers, including at least one translator who worked with the U.S. military in Iraq, were detained or delayed in being admitted to the country, while airlines initially struggled to understand the implications of Trump's order.
"The independent federal watchdog is investigating the apparent indiscriminate detention of legal permanent U.S. residents and previously vetted travelers," Senators Dick Durbin and Tammy Duckworth of Illinois said in their joint statement. "The investigation is also examining whether U.S. law enforcement officers violated a federal court order by refusing to allow legal permanent residents being held at Dulles Airport to access legal counsel," they added, referring to the international airport outside Washington.
Read about legal battles over Trump's entry ban -- a QuickTake Q&A
The Homeland Security Department has come under criticism from lawmakers, companies and nonprofits for how its officers implemented the ban, which affected citizens of Iran, Iraq, Libya, Somalia, Sudan, Syria and Yemen as well as all refugees. Multiple lawsuits have also been filed challenging the legality of the ban.
In Boston, U.S. District Judge Allison Burroughs on Jan. 29 ordered the government not to detain any holders of valid immigrant and non-immigrant visas, lawful permanent residents and others from the seven countries.
— With assistance by Janelle Lawrence
Before it's here, it's on the Bloomberg Terminal.
LEARN MORE