Trump Gives a Peek at Travel Ban Defense Ahead of Hearings
By and
First official U.S. response to litany of lawsuits over ban

No one's being detained anymore so court order moot, U.S. says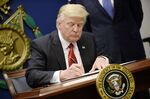 Court orders barring enforcement of President Donald Trump's travel ban on citizens of seven countries aren't needed because no one's being harmed, the U.S. said, urging a Boston judge not to extend an order that opened Logan International Airport to all travelers holding a legal visa.
It's the first official response from the government to a litany of lawsuits that followed Trump's Jan 27 order, which roiled global travel when he barred entry to the U.S. of citizens of Iran, Iraq, Libya, Somalia, Sudan, Syria and Yemen. Individuals, organizations, politicians and some states called it unconstitutional and un-American in the lawsuits.
"There is no reason the court cannot allow the emergency order to expire," government lawyers said in a filing in Boston federal court Thursday. No one who sued is being detained any longer, so the order is moot, the U.S. said.
The Boston court order is set to expire Feb. 5. Hearings are scheduled in Boston, Alexandria, Virginia, and Seattle on Friday to deal with the various lawsuits on those cities.
Many of the lawsuits across the country claim Trump's order violates the Constitution by discriminating against Muslims based on their religion. All seven countries on the banned list are mostly Muslim. Government officials responded that the seven countries make up a minority of Muslims in the world, while others such as Indonesia aren't affected.
Massachusetts Attorney General Maura Healey, arguing for the Boston order to be kept in place, said in a court filing that state is harmed "as an employer, educator, service-provider, and tourist destination, as well as a vibrant, international economy."
The fate of Massachusetts residents with visas remains unclear under Trump's order, she said. "The schools, hospitals, businesses, and other institutions that employ or enroll these residents are likewise plagued by uncertainty," Healey wrote.
New York Ban

U.S. District Judge Carol Bagley Amon in Brooklyn, New York, on Thursday extended a temporary order that blocked the deportation of citizens from the seven countries and applied to all people stranded at U.S. airports. Under the order the government can't send back anyone from the U.S. based only on the president's directive.
The government still hasn't complied with an earlier order directing it to supply lawyers for immigrants and detainees with a list of those being held as a result of Trump's directive, Lee Gelernt, a lawyer with the American Civil Liberties Union, told the judge.
The ACLU said it wants to know who was detained but also the names of people who were sent out of the U.S., some of them with valid visas or green cards.
"We seem to be in limbo here," Amon said. The extension "gives both sides time to address what I think are substantive issues."
The government has clarified that the travel ban doesn't apply to lawful permanent residents, or green-card holders, the U.S. lawyers said in the Boston filing.
In Limbo


Some travelers are also in limbo.
An Iranian scientist has been stuck in Zurich because Swiss Air, based on a directive from U.S. Customs and Border Protection, refused to let her board a plane to Boston. Samira Asgari sued and called the airline's move "a flagrant violation" of the Boston judge's order.
Asgari says she holds a valid J-1 visa to enter the U.S. to perform research related to pediatric tuberculosis.
A representative from Swiss Air's legal department said that Customs and Border Protection informed the airline that it could be fined and refused permission to land in the U.S. if Asgari were on board, she said in court papers filed Thursday in Boston federal court.
According to a Jan. 27 State Department memo, all valid immigrant and non-immigrant visas of nationals from the seven countries were revoked, with some exceptions for diplomats. Asgari's J-1 visa wasn't among those exceptions.
Deutsche Lufthansa AG will respect the Boston judge's order and all passengers with valid travel documents can board flights to Logan International Airport, the airline said in a statement on its website.
Oxfam America Inc. also sued in Boston, claiming it regularly brings people from five of the seven countries from where travel is banned to speak with U.S. officials.
The charitable organization "does not explain why those individuals cannot participate in meetings by telephone or videoconferencing," the U.S. responded in the court document.