Tillerson Strides Into Maelstrom as Diplomat Amid Trump Tumult
By
At State Department debut, Tillerson brings humor, reassurance

New secretary seeks to ease tensions over internal dissent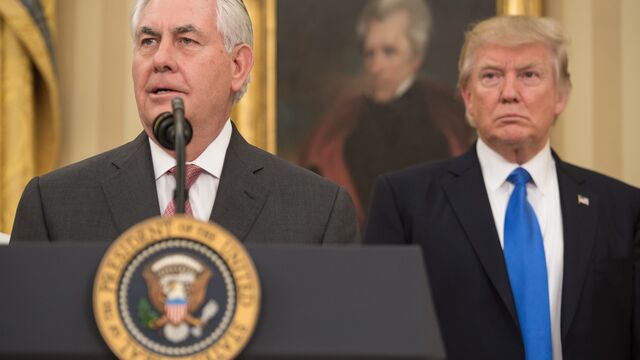 With a greeting of "Hi, I'm the new guy," Secretary of State Rex Tillerson showed up for his new job: applying diplomacy to an inbox full of undiplomatic broadsides from President Donald Trump.
Arriving for work in the atrium of the State Department Thursday about 30 minutes late after attending the National Prayer Breakfast with Trump, the former Exxon Mobil Corp. chief joked to an assembly of department staff that "it seemed at this year's prayer breakfast people felt the need to pray a little longer."
It was an apt summary of the global fires Tillerson will have to tamp down. Less than two weeks into office, Trump has strained traditional alliances with Mexico, Australia, Germany and Japan, ramped up tension with Iran over a ballistic missile test, and signed an executive order limiting entry to the U.S. from seven mostly Islamic nations that drew global condemnation.
Read how Tillerson's vow to keep away from Exxon will be difficult.
While avoiding mention of those issues, Tillerson sought to extend an olive branch to the hundreds of staff gathered to meet him, many of whom are wary of the Trump administration's intentions. On Tuesday, more than 900 diplomats and staff in the department signed a memo to Tillerson opposing Trump's immigration and refugee limits, saying they were contrary to American values.
"I will depend on the expertise of this institution," Tillerson said. "You have acute knowledge and experience that cannot be replaced anywhere else."
White House Press Secretary Sean Spicer had responded to word of the "dissent memo," a State Department tradition to encourage free exchanges, on Monday by saying the government employees should "either get with the program or they can go."
Expecting Change
Without issuing such an ultimatum, Tillerson told the State Department staff they should expect change. "We cannot sustain ineffective tradition over optimal outcomes," he said.
To applause, Tillerson said his highest priority will be to keep the department's 75,000 staff and diplomats safe. He also asked the department to abide by three principles: accountability, honesty and respect.
"My first day's here," Tillerson said. "Hi, I'm the new guy."
Watch Next: Trump's Top Diplomat Comes With Love From Russia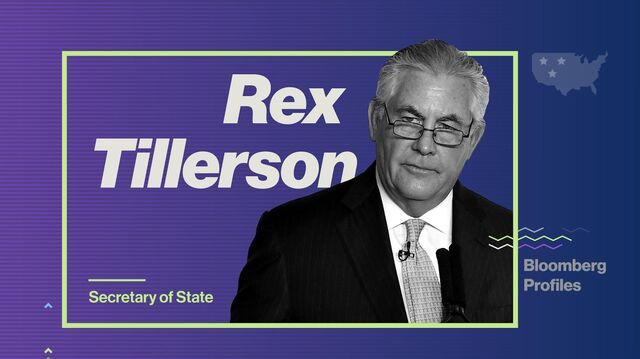 Before it's here, it's on the Bloomberg Terminal.
LEARN MORE