Small Is No Longer Beautiful in the Stock Market
by
Poor earnings momentum may hold back small-caps, HSBC says

Credit Suisse urges caution on back of 'fading Trumphoria'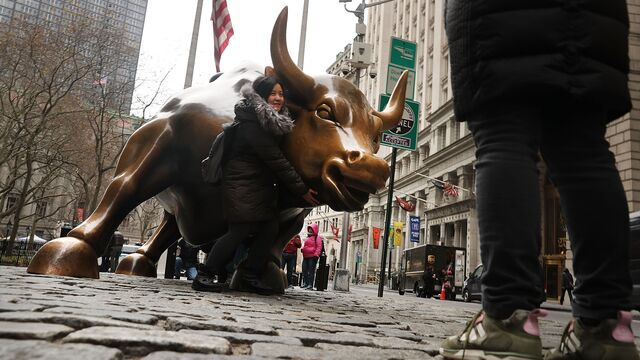 Good things come in small packages, the saying goes. But in global stock markets that may be about to change, according to analysts from HSBC Holdings Plc and Credit Suisse Group AG, who urged investor caution on shares of smaller-capitalized companies in notes to clients this week.
Compared to larger companies, small caps -- often defined as stocks with a market capitalization of $300 million to $2 billion -- suffer from poor earnings momentum, high investor expectations, and unappealing relative valuations, HSBC strategists including Ben Laidler wrote. U.S. small-caps are "clearly expensive" and have "overshot economic momentum", according to Credit Suisse analysts led by Andrew Garthwaite.
Globally, small-cap stocks have outperformed the market over the past year, being "the leading edge of the reflation trade," as HSBC put it. Those companies make most of their revenue on home soil, and in the U.S. are considered a play on the policies of President Donald Trump that drove global share gains since November. U.S. equity flows turned negative in the past two weeks, reflecting investor concern around the U.S. administration's agenda, Barclays Plc said in a note Wednesday.

In recent months, earnings-revision trends have been negative for this asset class, according to HSBC. With consensus earnings-growth expectations for 2017 nearly double those for larger companies, "this makes small-caps increasingly vulnerable, " the analysts said.
Both banks also highlight elevated valuations as a reason for caution. Although smaller companies have historically traded at higher price-to-earnings multiples than large caps, HSBC notes the current premium has risen to 40 percent. Credit Suisse suggests U.S. small-caps are "nearly one standard deviation expensive" relative to shares of larger companies, suggesting they're ripe for a correction.

The caution stands in contrast to some views in the market. Strategists from BlackRock Inc., Merrill Lynch, Strategas and LGT Bank have all recommended investing in small-cap shares in recent weeks.
Before it's here, it's on the Bloomberg Terminal.
LEARN MORE