Top Lawmakers Do Diplomatic Cleanup After Trump Lobs Attacks
By and
Trump's rocky call with Australia gets gentle rebuke from Ryan

McCain has been strong GOP critic of several Trump policies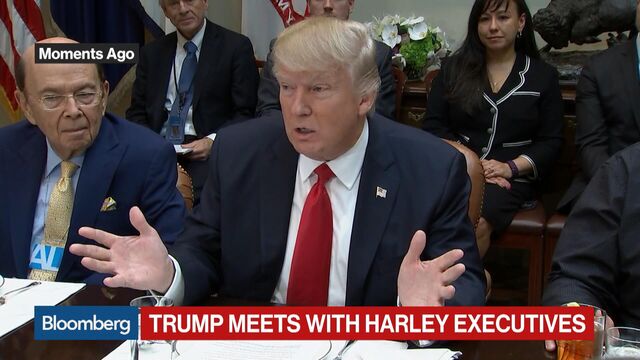 Paul Ryan and John McCain have been taking on an unusual role when it comes to Donald Trump's disruptive diplomacy: clean-up duty.
Both the House speaker and the chairman of the Senate Armed Services Committee have tried to do some damage control on the president's policies toward Australia and Russia in recent days, a reflection of the unease in some GOP circles over Trump's foreign policy.
Senator McCain, a Republican from Arizona, has been particularly outspoken during the new president's first fortnight, alternately rebuking and cajoling him. But Speaker Ryan has also weighed in at times with some gentle chiding, which he balances with strong praise for Trump.
After reports that Trump cut short a phone call with Australia's leader, McCain said Thursday that he called Australia's ambassador Joe Hockey to reaffirm his "unwavering support for the alliance."
Ryan's implicit rebuke of Trump's late-night tweet about Australia was more cautious, telling reporters Thursday that the long-time ally shouldn't "be worried about its relationship with our new president or with our country." He also acknowledged that he chose to address the issue even though "I typically don't quote or comment on the tweet of the hour."
Late Thursday, the White House reached out to Australia to begin smoothing things over. Reince Priebus, Trump's chief of staff, and Steve Bannon, a senior adviser to the president, held a meeting with the Australian ambassador to the U.S., according to a White House official.
Gorsuch, Iran
Some prominent Republicans are expressing wariness after the rocky rollout of the new president's executive order restricting entry to the U.S. and his public criticism of U.S. allies. Even so, on many issues, both Ryan and McCain offer full-throated support for Trump, particularly on his choice of Neil Gorsuch as his Supreme Court nominee and his muscular stance toward Iran.
McCain said Thursday that Trump was right to put Iran "on notice" over its recent actions, while Ryan added, "I think we should stop appeasing Iran."
While both Republicans kept their distance from Trump during the campaign, Ryan in particular has worked hard to cozy up to the new leader of the GOP, trying to focus on enlisting Trump to help enact the party's ambitious legislative agenda. 
"He's definitely going to be unconventional," Ryan said at a Politico event last week. "But what I've enjoyed the last few weeks is, he takes this very seriously. I think he realizes just the awesome responsibility. I think he understands how big a deal it is."
Tough on Russia
McCain has been quicker to criticize Trump -- he wants a far tougher approach to Russia, and on Thursday he released a letter to Trump urging him to provide lethal aid to Ukraine, maintain Ukraine-related sanctions on Moscow and expand penalties in response to Russia's "attempted interference in our elections."
"That this surge of attacks began the day after he talked with you by phone is a clear indication that Vladimir Putin is moving quickly to test you as commander-in-chief," McCain wrote to Trump, referring to an increase in fighting in Ukraine. "America's response will have lasting consequences."
Ryan also declares himself a "Russia hawk," and his stated position is that sanctions should have been tightened long ago. Yet McCain again goes a step further to say he would work with his colleagues "to codify sanctions against Russia into law" if Trump makes any move to ease them.
McCain was one of the first Republicans to unequivocally denounce Trump's temporary ban on travelers from seven majority Muslim nations, which caught up Iraqi translators, green-card holders and other allies in a bureaucratic web.
"This executive order sends a signal, intended or not, that America does not want Muslims coming into our country," McCain said in a joint statement with South Carolina Republican Senator Lindsey Graham. "That is why we fear this executive order may do more to help terrorist recruitment than improve our security."
Religious Minorities
Ryan defended Trump's executive order as an appropriate response to challenges in vetting refugees, though he did say the implementation could have gone more smoothly. Even though he said last year that a religious test for entering the U.S. "is not reflective of America's fundamental values," Ryan now says he doesn't take issue with putting priority on helping religious minorities, such as Christians, that face discrimination in countries that are majority Muslim.
"You know this is not a Muslim ban -- if it were, I would be against it," Ryan said. "What's wrong with saying we're going to take into account minority religious persecution with our refugee situation?"
Both Ryan and McCain also have come out firmly against reviving the use of harsh interrogation measures on suspected terrorists, pushing back at Trump's suggestion last week that torture "absolutely works."
"Torture's illegal," Ryan told reporters last week. "And we agree with it not being legal."
Same Page
Ryan has been emphatic in insisting that congressional leaders are on the same page as the White House, especially when it comes to health care, tax overhaul and rolling back regulation.
McCain, who has often been on the receiving end of Trump's Twitter wrath, has long fashioned himself as a maverick, but still resists being painted as a foil for the president. 
He told reporters Wednesday that he's simply doing what he has always done -- whether that's opposing President Ronald Reagan's decision to send Marines to Lebanon, urging George W. Bush to fire Donald Rumsfeld over the conduct of the war in Iraq or being critical of any president, including Trump, who has suggested that the U.S. should employ harsh techniques during interrogations of suspected terrorists.
"I have always done what I think is best, but to portray this -- I know it's very convenient for the media -- as some kind of nemesis, I'm not," he said.
Before it's here, it's on the Bloomberg Terminal.
LEARN MORE