Oil Industry's Struggles Start to Ease as Shell Reduces Debt
By
Shell, Exxon, Chevron can fund dividend from cash flow

Investors see cause for optimism after tricky fourth quarter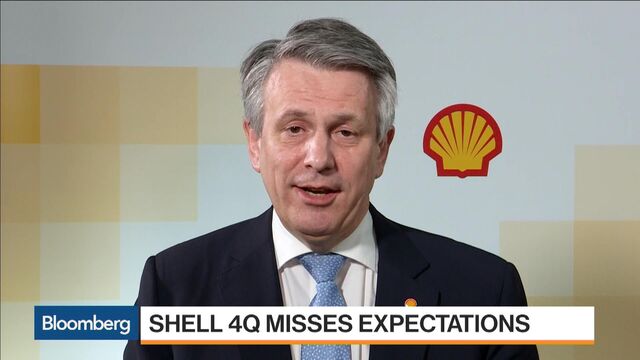 The oil industry's struggle through the worst slump in a generation showed signs of easing, with Royal Dutch Shell Plc managing to reduce its record debt for the first time since the downturn began.
Rising oil prices and billions in cost cuts allowed Europe's largest energy company and fellow giant Exxon Mobil Corp. to generate enough cash to pay dividends without borrowing last quarter, while Chevron Corp. will do so this year. Profits fell short of expectations for all three companies, but analysts and investors saw cause for optimism.
"The worst is over for Big Oil," said Brian Youngberg, an analyst at Edward Jones & Co. in St. Louis, Missouri. "Reduced spending combined with higher prices should lead to these companies covering spending and dividends in 2017."
After months of cost cuts, contract renegotiations and project deferrals, Shell and its peers should be well placed to profit from the price recovery spurred by OPEC's agreement to cut production. Yet, as fourth-quarter earnings showed, there are still some obstacles to overcome. Shell Chief Executive Officer Ben Van Beurden along with BP Plc boss Bob Dudley still express caution and neither is ready to increase investments.
Break Even
Oil's rebound to about $55 a barrel was only enough to lift Shell's exploration and production unit to just above break-even. The higher cost of crude meant profitability of refining and trading slumped. Quarterly adjusted profit of $1.8 billion was a billion dollars short of analysts' expectations.
At the same time, Shell's cash flow from operations jumped 69 percent from a year earlier to more than $9 billion and it chipped $4 billion from its debt pile. Investors looked beyond the disappointing profit and sent the company's B shares 1.6 percent higher in London, the biggest gain since Dec. 12.

Shell and Total SA, Europe's second-biggest oil company, will be able to cover their dividend at an oil price of $55 a barrel this year and $50 in 2018, according to Ahmed Ben Salem, a Paris-based analyst at Oddo Securities. He expects Shell to generate $40 billion is cash from operations this year, accounting fully for the $25 billion of spending and $15 billion of dividend.
BP is due to report results on Feb. 7 and Total on Feb. 9.
Paying Off
"Our strategy is starting to pay off," Shell's Van Beurden said in a Bloomberg Television interview. "Free cash flow is well above requirements, we have started to pay down our debt in the fourth quarter. I do think we are on track."
Shell's boss has made debt reduction the top priority since he piled up borrowings following the $54 billion purchase of BG Group Plc last year. And he's making headway. Gearing -- a measure of indebtedness -- was 28 percent at the end of the year, down from 29.2 percent at the end of the third quarter. The company's $30 billion divestment program is on track, with $4.7 billion of asset sales this week and a further $5 billion at an "advanced" stage.
Still, Shell delivered a return on capital employed of just 2.9 percent in the fourth quarter, only fractionally higher than the record low of 2.8 percent in 1998 and the second-lowest in more than 60 years, according to Sanford C. Bernstein & Co. There's a way to go before the company can raise this to double-digits, van Beurden said.
Even if companies can now cover their costs, there won't be much left over for growth if oil stays at $55, said Jason Kenney, an analyst at Banco Santander SA. Crude needs to rise to $60 to $65 to really give squeezed oil majors "a get out of jail free card."