Nigeria's Army Says Its Mistaken Bombing of Camp Killed 112
By and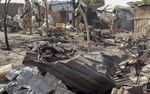 Nigeria's army said 112 people were killed when it mistakenly bombed a northeastern camp for displaced people two weeks ago, the first time authorities have given a death toll.
Another 97 people were injured when jets pursuing Boko Haram Islamist militants accidentally struck the camp in the town of Rann, Borno state, on Jan. 17, army spokesman Lucky Irabor told reporters Thursday in Maiduguri city.
Medical charity Medecins San Frontieres previously said at least 90 people died in the incident. President Muhammadu Buhari at the time described the bombing as a "regrettable operational mistake."
Boko Haram has waged a violent, more than seven-year campaign to impose its version of Islamic law on Africa's most populous country, leaving an estimated 20,000 people dead and forcing more than 2 million from their homes. Rann hosts about 43,000 of the displaced, according to the United Nations Office for the Coordination of Humanitarian Affairs.