Christie Misconduct Complaint by Citizen Isn't Dead Just Yet
By
Judge holds probable-cause hearing that Christie lawyer skips

Ex-fireman says governor should have ended GWB lane closings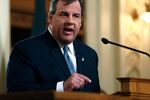 A New Jersey municipal judge reopened the door a crack for a criminal complaint by a citizen who claims Governor Chris Christie engaged in official misconduct by failing to end politically motivated traffic jams near the George Washington Bridge in 2013.
The effort by former firefighter Bill Brennan to hold Christie criminally responsible for the scandal known as Bridgegate remains a long shot, but it isn't dead yet. Judge Roy McGeady held a hearing Thursday in Hackensack on whether probable cause exists to refer the case to the Bergen County prosecutor for possible indictment. 
Another judge had overturned McGeady's October ruling that probable cause existed, saying Christie's lawyer should have had a chance to cross-examine Brennan. McGeady was ordered to hold a new hearing. But then the prosecutor's office said in a Jan. 27 letter that it had thoroughly investigated the case and didn't believe it could prove the charge beyond a reasonable doubt. 
That prompted Christie's lawyer, Craig Carpenito, to skip Thursday's hearing after notifying McGeady by letter that he considered the matter closed. And the county prosecutor's office also didn't participate. McGeady was left to question Brennan, who revived his request for the appointment of a special prosecutor not tainted by ties to Christie. McGeady said no.
"We can't let witnesses decide who will prosecute cases, and that is Mr. Brennan's status -- he is a witness," McGeady said in court. "Who prosecutes is an executive branch decision. I'm the judicial branch, and I don't get to decide who gets to be the prosecutor."
Trial Testimony
Brennan is basing his case on testimony from the trial of two former Christie allies, Bill Baroni and Bridget Anne Kelly, who were convicted Nov. 4 of plotting to snarl traffic to punish the mayor of Fort Lee for not backing the governor's re-election. They've yet to be sentenced. Another former Christie associate, David Wildstein, pleaded guilty and testified against them.
Revelations about the plot created a national scandal that helped undermine Christie's political ambitions, which included a Republican run for the White House and aspirations for a senior post in President Donald Trump's administration.
At the hearing on Thursday, Brennan said he was submitting transcripts from the trial for McGeady's review. McGeady had issued a finding of probable cause during the Bridgegate trial based only on Wildstein's testimony. Now, he has the testimony of other witnesses to consider.
McGeady said he will rule on Feb. 9 whether probable cause exists. Carpenito and spokesmen for Christie didn't immediately respond to e-mails seeking comment.
On Jan. 27, when county prosecutors said they wouldn't pursue the case, Christie's office issued a statement that said: "The governor is gratified that the Bergen County Prosecutor's Office has ended this baseless fiasco begun by Mr. Brennan and perpetuated by Judge McGeady."
 
Outside the courthouse, Brennan said he would file an emergency appeal to the state Supreme Court on McGeady's ruling that denied appointment of a special prosecutor.  
Before it's here, it's on the Bloomberg Terminal.
LEARN MORE