Hedgeye Short Seller Knocks $660 Million Off Macquarie Infrastructure
by
Kevin Kaiser of Hedgeye sent Macquarie Infrastructure down 10%

Analyst has previously recommended successful energy shorts
You don't want to be on the wrong end of a short call by Kevin Kaiser of Hedgeye Risk Management.
Macquarie Infrastructure Corp. is feeling Kaiser's wrath after he recommended shorting it, sending shares of the the energy and transportation infrastructure conglomerate plunging almost 10 percent over two days, erasing $660 million in market value. Macquarie Infrastructure's shares, which closed at $82.84 the day before his comments, should actually be worth $40 to $50, implying downside of as much as 52 percent, according to Kaiser. He plans to release his full report and host a conference call Friday.

Kaiser's ability to erase hundreds of millions of dollars of market value with a single recommendation speaks to his past success identifying short targets. The 30-year-old managing director made a name for himself in 2013 and 2014 with a series of negative calls on energy-related companies including Linn Energy LLC, Breitburn Energy Partners LP and Vanguard Natural Resources LLC, all of which ultimately filed for bankruptcy.

"There's not a secret sauce," Kaiser said by phone. "I dig through all publicly available data and try to find data other people haven't found, or don't pay attention to. I look at numbers in a different way than a management team might present them."
That's not to say Kaiser's calls are infallible, especially not lately. In March 2016, he called Summit Midstream Partners LP "worthless." The shares have since rallied 75 percent. SemGroup Corp. has gained 22 percent since Oct. 10, when he said it has a 56 percent downside.
The impact Kaiser had on Macquarie Infrastructure's share price shows investors are still paying attention. The stock posted the biggest two-day drop in almost a year after his comments. With the release of the full report coming a week later, it had recovered less than 1.5 percent through Wednesday after its initial 9.7 percent decline.
Buy Ratings
"The issuance of an invitation to attend a call about our company, three weeks before our full-year earnings are released, does not change the performance and outlook for our business," Macquarie Infrastructure Chief Executive Officer James Hooke said in an e-mailed statement. "People are free to say what they want about our business. However, the results are what matters and we will publish those results on February 21."
All seven analysts who track the company recommend buying the stock. Their average price target implies a 28 percent gain from Wednesday's close over the next 12 months. Robert Norfleet, who covers Macquarie Infrastructure at Alembic Global Advisors, told clients in a research note that the issues Kaiser is likely to present in Friday's report -- including questions about free cash flow and whether it can sustain its current dividend -- have existed for years and "bear little merit to material downside to the share value."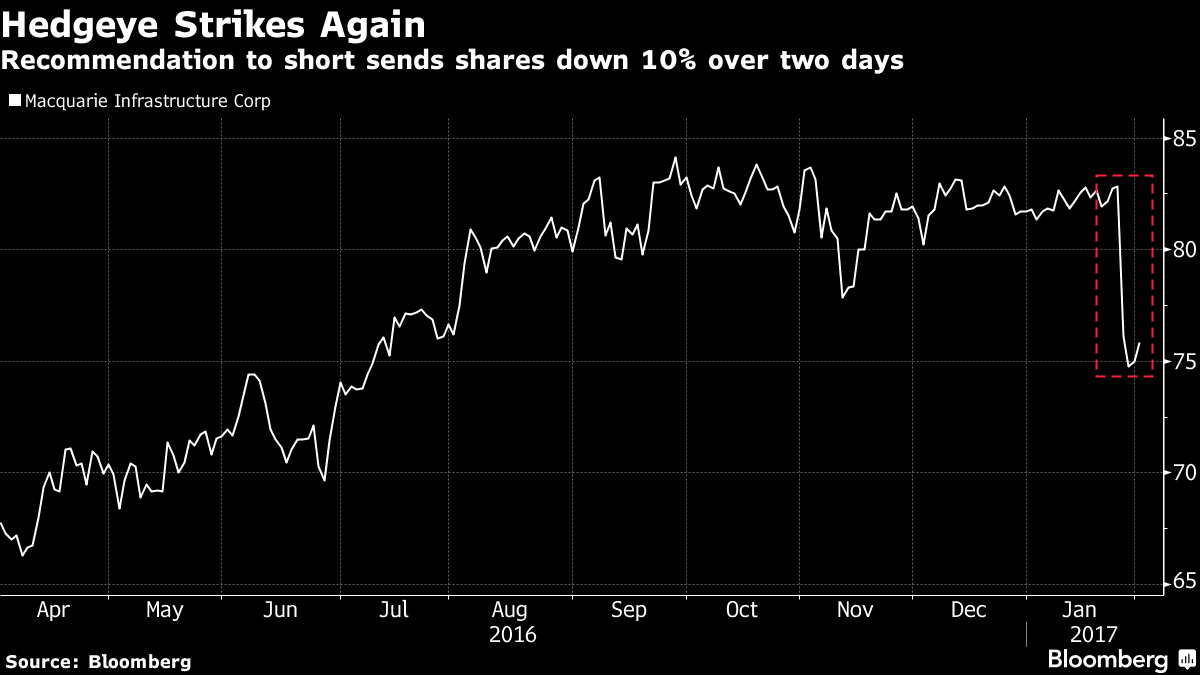 Kaiser's efforts over the past four years have also attracted the attention of corporate executives, and it hasn't always been pretty. A few months after one of his short-seller reports published in May, Tallgrass Energy Partners LP Chief Executive Officer David Dehaemers accused him of libel. Kaiser took to Twitter to respond, tweeting, "Hey David, you mad bro?" After falling 8.3 percent the day of the initial sell recommendation, Tallgrass has since rallied 7 percent.
While Kaiser has previously focused most of his research efforts on master limited partnerships and energy service providers such as Tallgrass, his report on Macquarie Infrastructure marks a foray into a company that's more diversified, providing everything from airport services to bulk liquid terminals. The New York-based company's second biggest shareholder is Australian bank Macquarie Group Ltd., which owns 5.5 percent.
Beyond Kaiser's work, Hedgeye also employs analysts that cover stocks in the financial, health-care, retail, industrial and consumer sectors, among others. Founded by chief executive officer Keith McCullough in 2008 and based in Stamford, Conn., the firm is an independent investment research provider that does no trading of its own and doesn't conduct business with corporations.
Before it's here, it's on the Bloomberg Terminal.
LEARN MORE