French Prosecutors Widen Fillon Probe Amid Party Calls to Quit
By
Poll shows Republican may be eliminated in first round vote

Fillon reeling from reports he handed family public salaries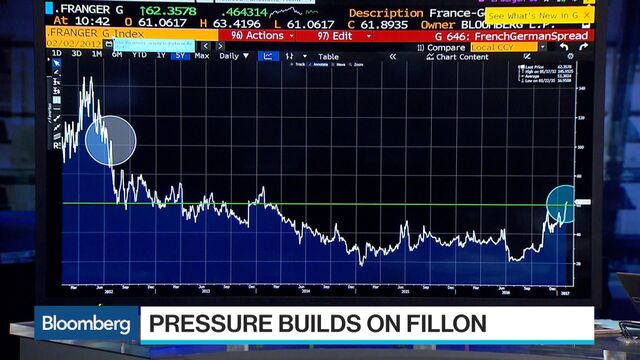 The pressure is building on Francois Fillon.
After more than a week of reports he handed family members unjustified public salaries, prosecutors on Thursday decided to widen a probe into the Fillon family's affairs and some lawmakers from within the candidate's Republican party are starting to signal his presidential bid may be over, even as others rally to his support. Fillon has insisted he did nothing wrong and his spokeswoman declined to comment on the prosecutors' latest decision.

Fillon on Wednesday appealed to his parliamentary group to give him two weeks to get his campaign back on track. But with less than three months to go before the first round of voting, the party is running short of time to find a replacement candidate if Fillon is forced from the race.
"How can you defend a platform that asks everyone to make sacrifices, that tells people they have lived too well for decades and now must tighten their belts, and then have this?" Henri Guaino, a Republican lawmaker from the Paris suburbs, said Thursday on France2. "Yes, he won the primary, but would they have voted that way if they'd known?"
Investigators widened a preliminary criminal probe started last week to include Fillon's employment of two of his children as aides when he was serving in the French Senate, according to a person familiar with the investigation.
The decision follows a report Tuesday in the satirical weekly Le Canard Enchaine that the candidate's wife Penelope and two of the couple's children earned more than 1 million euros ($1.1 million) over more than a decade as parliamentary aides and from Penelope's contributions to a magazine. While its legal and common for French lawmakers to employ family members, Le Canard said that Penelope Fillon didn't actually do any work.
At least five other Republican lawmakers have publicly questioned Fillon's candidacy since Le Canard's second wave of revelations about his family's affairs. Le Monde's front page on Wednesday asked: "Can Francois Fillon Hang On?" while other media speculated on what the party's Plan B might be.
"I will be the candidate," Fillon told reporters in Paris on Wednesday. "When one chooses to be candidate in the presidential election, one also has to face the attacks." He said the 4.4 million people who voted in November's primary give him the right to continue, despite the flak he's facing. Fillon won the primary with 67 percent of the vote.
For an explainer on the Fillon scandal, click here
A survey Thursday showed 58 percent of supporters of Fillon's Republicans think he should stay on as candidate. A broader group of voters in the center and center-right was split 50-50, while in the electorate as a whole, only 31 percent thought he should stay, according to the online poll of 946 people by Harris Interactive carried out Feb. 1.
"We are all sinking like the orchestra on the Titanic," Georges Fenech, a Republican lawmaker who voted against Fillon in the primary campaign, said on LCI television, calling on the candidate to put the party's interests first. "Fillon can't ask us to wait for the end of the investigation, we are just a few weeks from the presidential election."
For the party leadership, there is no precedent for how to get out of their fix. A major party nominee has never dropped out this close to an election and last year's selection process was the first time the group has held a primary. The election timetable gives them little time to organize another vote and any replacement would have to complete his registration by March 17. A special college of party executives could pick a new candidate, Le Monde said.
Fillon supporters have refused to even discuss the idea of a replacement. "We must keep our nerve," Eric Ciotti, a lawmaker from the south of France, said on France Info. "We will come out of this test united behind Francois Fillon."
Potential Substitutes
Fillon has said that if prosecutors decide to start a full probe he'll pull out of the race, though it's unclear who would stand in his place on the Republican ticket should that happen.
Alain Juppe, who finished second to Fillon in the primary, has said he isn't ready to mount a campaign, though he hasn't fully ruled it out. Former President Nicolas Sarkozy was eliminated in the first round of the party's selection process and hasn't commented either way. Francois Baroin, a former finance minister under Sarkozy, and Xavier Bertrand, the head of the North region, have been tipped as potential substitutes in the French media.
Fillon had been the establishment's leading candidate to stop nationalist Marine Le Pen's populist campaign to win the presidency and lead France out of the euro. He was the surprise winner of the Republican primary, with his boast that that he had the irreproachable integrity required to lead the country helping propel him from a third place in opinion polls.
After leading in polls after his primary victory, Fillon slipped to third this week in an Elabe survey. More than three quarters of French voters were unconvinced by his explanations of the jobs for his family, a separate poll showed.
— With assistance by Alexandre Boksenbaum-Granier, Alan Katz, Gregory Viscusi, and Angeline Benoit
Before it's here, it's on the Bloomberg Terminal.
LEARN MORE