Frankfurt Lobby Group Sees 10,000 U.K. Bankers Moving on Brexit
By and
Brexit exodus will start within weeks, lobby group says

BaFin recently hosted meeting with 50 bankers in Frankfurt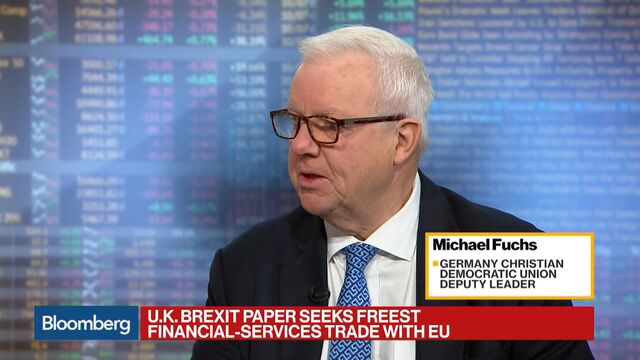 Frankfurt expects as many 10,000 workers from Britain's financial services industry to relocate to Germany's banking capital because of Brexit, with the exodus likely to start within weeks, according to lobby group Frankfurt Main Finance.
"Within the euro zone you need to be in Frankfurt to service the area," Hubertus Vath, the FMF's managing director, said at a conference in London Thursday. "We're going to benefit most."
Germany's financial regulator this week offered to let most banks that move operations there keep their current models for setting capital requirements for as long as two years, according to people familiar with the matter. BaFin hosted a closed meeting Monday with about 50 representatives of foreign banks to answer questions about its regulatory framework. Banks said to be considering Frankfurt as their new European Union hub after Brexit include Citigroup Inc., Goldman Sachs Group Inc., and UBS Group AG.
Asked to name his city's biggest drawback, Vath said it was the "perception of the German labor law," although he added that leading politicians are committed to easing it. It actually costs the same to make someone redundant in Frankfurt as it does in London, Vath said, but he conceded that the process is more cumbersome.
Daniel Lacalle, commissioner for the Madrid region in London, said the Spanish capital is appealing because of its easy labor laws and low corporate tax. Speaking at the conference, he said Madrid has 1.7 million square meters of prime real estate and an airport close to the city center. Some 250 investment funds have already switched to the city since the Brexit referendum, he said.
IDA Ireland's Denis Curran, of the agency tasked with drawing international investment, said the country enjoys historical links to the U.K. and that the government is working closely with banks.
Alain Pithon, secretary general of Paris Europlace, said his city is home to the euro-area's most-developed capital market and stock market and is also the base for about 30 major global companies.
— With assistance by Steven Arons
Before it's here, it's on the Bloomberg Terminal.
LEARN MORE