Deutsche Bank Trading Slump Fuels Fears as Cull Said Planned
By , , and
Trading unit's market share falls to lowest since 2009

Analysts question profit-making ability of markets business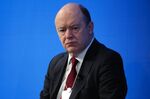 Deutsche Bank AG Chief Executive Officer John Cryan, who has settled regulatory probes, bolstered controls and cut billions of dollars of unwanted assets since taking charge, has another problem: making money.
Revenue at Deutsche Bank's trading unit missed analysts' fourth-quarter estimates and slumped to the lowest market share since the financial crisis as Cryan cut assets and clients pulled back. Shares in the Frankfurt-based lender fell the most since September as analysts questioned the prospects of the division, the firm's biggest revenue generator.
The quandary goes to the heart of the challenge that Cryan has faced since replacing Anshu Jain at the helm of Deutsche Bank in 2015. While the CEO is shrinking the trading unit and improving compliance to reassure investors of the lender's financial strength, taking less risk can mean losing clients and making less profit.
"Deutsche Bank has lost market share in investment banking," said Helmut Hipper, a fund manager at Union Investment, a top 25 investor in Deutsche Bank. "The question is, how can the unit return to profitability now that it is shedding assets and Deutsche Bank is cutting bonuses."

Fourth-quarter debt-trading revenue rose 11 percent to 1.38 billion euros ($1.49 billion), falling well short of the 43 percent jump that the five biggest Wall Street banks collectively posted. Equity-trading revenue, which analysts had expected to be flat, fell 23 percent, partly as hedge funds spooked by the bank's legal woes went elsewhere. That business is still "flattish to slightly down" in January compared with a year earlier, Deutsche Bank Chief Financial Officer Marcus Schenck said Thursday on a call with analysts.
Cryan isn't done cutting yet. The lender is planning to slash as much as 17 percent of equities-trading staff and 6 percent of bond-trading workers, a person familiar with the matter said on Friday.
The stock rose 1.7 percent to 18.49 euros as of 2:33 p.m. in Frankfurt on Friday, recouping some of the 5.2 percent slide the previous day. Deutsche Bank has gained 25 percent in the past 12 months.
Franchise Damage
The global markets unit's revenue fell 14 percent to 9.29 billion euros last year from a year earlier. About 400 million euros of the decline came from the company's decision to exit certain countries and business segments, while slightly more than 50 percent of the remaining drop "is what we think is Deutsche Bank-idiosyncratic noise," Schenck said.
"The franchise is definitely damaged, but they had to damage it to get through the next couple of years," said Oliver Rolfe, managing director at Spartan Partnership, a London-based recruiter that focuses on equities trading. "If they can reset themselves within the next twenty-four months, they have the opportunity to return to their former glories down the line."
Other banks have recovered from temporary hits to their client franchises.
In the second quarter of 2012, Morgan Stanley suffered a bigger drop in fixed-income revenue than rivals as the bank said clients halted some trading with the firm amid a Moody's Investors Service review of its credit rating that quarter, which resulted in a downgrade. The bank said clients later returned, and it posted a 50 percent jump in bond trading revenue in the second quarter of 2013.
Capital Boost
Deustche Bank had an 11 percent share of fixed-income trading and 6 percent in equities among the seven major investment banks that have reported fourth-quarter results so far. That's the lowest share in each of those businesses since at least 2009, according to data from Bloomberg Intelligence.
Cryan boosted Deutsche Bank's common equity Tier 1 ratio, a key measure of financial strength, to 11.9 percent in the fourth quarter as he cut risk-weighted assets by the most since he took over. Still, this prompted analysts to wonder how the lender can turn a profit while shrinking.
"We welcome the improvement in the capital position, but wonder if this has come at a cost to the profitability of the core franchise," Andrew Coombs, an analyst with Citigroup Inc. who has a sell rating on Deutsche Bank shares, wrote in a note to clients.
Strong 2017
Deutsche Bank executives tried to address this concern by highlighting a strong start to 2017. The firm's debt-trading business saw a 40 percent increase in January compared with a year earlier, Schenck said at a press conference after the results. The capital ratio will probably move lower in the first quarter because the bank was being more active with clients, Schenck said.
"I'd still expect them to lose market share against their U.S. competitors over time," said Piers Brown, an analyst with Macquarie Group Ltd. who recommends investors sell the stock. "The key problem is the low return on equity. Rectifying this requires becoming a lot more cost efficient which may not be possible without scaling the business up. However, this requires capital which they haven't got."
Cryan said he expects Deutsche Bank to make a profit for 2017, which would be its first positive year since 2014.
"The fourth quarter was arguably maybe the most difficult quarter in almost a decade for us, given all the noise around the bank," Schenck said in an interview with Bloomberg Television. "That took its toll on our performance, particularly in our markets business." 
Before it's here, it's on the Bloomberg Terminal.
LEARN MORE