Brexit Bulletin: It's Groundhog Day
Another day, another chance for British politicians to talk about Brexit.
By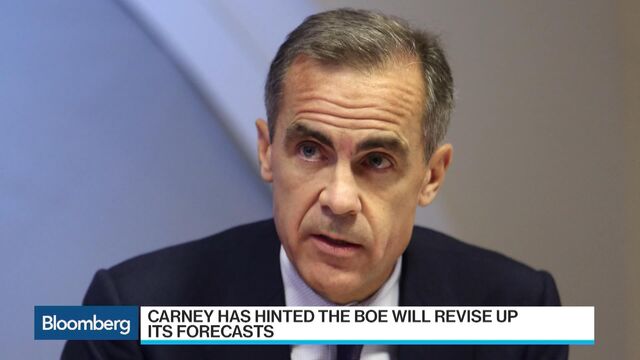 Sign up to receive the Brexit Bulletin in your inbox, and follow @Brexit on Twitter.
Thursday is "Groundhog Day" and so, for the 244th straight day since June's referendum, U.K. lawmakers are occupied by Brexit.

In today's Britain, Prime Minister Theresa May – much like Bill Murray's character in the 1993 movie – is making progress and suffering setbacks in her apparently endless quest to finally reach a new day.
Late on Wednesday the House of Commons voted 498 to 114 to allow May to start divorce talks with the European Union, leaving her on track to do so by the end of March.
But, as Bloomberg's Tim Ross and Robert Hutton report, there are more parliamentary hurdles ahead. Legislators warned that their backing of the Article 50 bill shouldn't be mistaken for unconditional support for May to negotiate Brexit freely.
Former Chancellor of the Exchequer George Osborne predicted the process would "completely divide" politicians and the public. The premier will have to grapple with controversies over setting migration limits, free trade policies and state support for farms and businesses, he said, chastising her for prioritizing immigration over the economy.
The Times reported some Tories are threatening to rebel unless May guarantees the rights of more than three million EU citizens to stay in Britain, while there is also concern about the plan to remove the U.K. from an EU-wide nuclear treaty. Others want Parliament to have a stronger say on the deal May lands. 

It's not just May with issues. A fifth of opposition Labour Party lawmakers defied leader Jeremy Corbyn to vote against the bill with two of his team resigning.
On Thursday, the government will publish its formal plan for the Brexit negotiations, a sop to members of the ruling Conservative Party who demanded one. Some will use the so-called white paper as a reason to rewrite May's bill when it enters the next stage of parliamentary detailed scrutiny next week.
The question is how much more detail will May provide beyond her long speech of Jan. 17. She could, of course, choose to be brief and steal a line from "Groundhog Day": "I'm not going to live by their rules anymore."
The Divorce Bill
The stage was set on Wednesday for what may prove to be an early battle in the negotiations.
Addressing a panel of fellow lawmakers, Trade Secretary Liam Fox rejected as "absurd" and "bizarre" the notion that the U.K. should pay a divorce bill for leaving the EU.
The scoffing came as Ivan Rogers, until recently the U.K. envoy to the EU, warned of a "genuine" risk that Britain will be asked to pay as much as 60 billion euros to cover budget commitments, civil-service pension liabilities, projects already underway and loan guarantees.
Failure to get the money would leave a "big hole" in the bloc's finances and he predicted talks on a "humongous scale" conducted in an "extremely feisty atmosphere."
Oxford Economics reckons the sum is closer to 47 billion euros, but haggling could set the tone for the negotiations and shape the final deal.
If the British balk then the EU could retaliate by delaying talks over future trading relations or the market-access it's willing to offer.
Germany Woos Banks
Gemany's financial regulator offered to allow most banks fleeing Brexit to keep current models for setting capital requirements for as long as two years.
At a Monday meeting with about 50 represenatives of foreign banks, BaFin said it would vet each case individually and expect lenders to shift all business to risk models it approves of after a transition period, two people familiar with the matter told Bloomberg's Steven Arons.
Many banks, including Citigroup and Goldman Sachs, are considering moving jobs and staff to Frankfurt from the U.K. after Brexit. 
PricewaterhouseCoopers also warned in a report this week that banks face a raft of new regulations just as Brexit is taking place. They will need to satisfy an overhaul of market rules that comes into effect in January 2018, as well as updated demands on how much capital they need to have. 
Brexit Bullets
On the Markets
The pound's decline meant U.K. factories saw costs rise at a record pace at the start of 2017, while its positive impact on exports may be diminishing, IHS Markit said on Wednesday. The Confederation of British Industry reported overnight that there are stark signs of price pressures at small and medium-sized manufacturers.
That's a tricky backdrop for Bank of England Governor Mark Carney and fellow members of the Monetary Policy Committee, who meet today.  They will probably argue that the risks from Brexit mean that faster growth and inflation don't warrant an interest-rate increase.

Bank of America strategists said on Wednesday that sterling's direction may depend on whether there is a transitional period after Brexit. If there is then the currency could appreciate well above $1.30 from the current $1.26, but failure to secure one could weaken it to $1.10.
And Finally…
It's unlikely to use its own bricks, but Lego is expanding its London base despite Brexit.
The Danish company has 275 people working in the city and is adding more than 50 percent in office capacity to its operations in the U.K.
The announcement came after newspapers reported at the end of last year that the toy company was planning to raise prices by an average of 5 percent in the U.K. because of the pound's tumble.
—With assistance from Eddie Buckle
For more on Brexit follow Bloomberg on Twitter, Facebook and Instagram, and see our full coverage at Bloomberg.com
Before it's here, it's on the Bloomberg Terminal.
LEARN MORE