BOJ Action Eyed for Friday as Yield Surge Tests Kuroda Resolve
by and
Investors watching for boost in JGB purchase amount on Friday

Market trying Kuroda's tolerance for higher yields: Barclays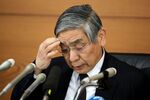 Japanese government bond investors are watching for a response from the central bank Friday after pushing 10-year yields to the highest since policy makers began targeting a level around zero percent in September.
If the BOJ follows its previous pattern of conducting purchases the day after auctions, it will offer to buy bonds maturing in five-to-10 years at an operation at 10:10 a.m. Tokyo time. The central bank said Tuesday the amount would be 410 billion yen ($3.6 billion). Officials however unexpectedly boosted the amount to 450 billion yen for the same maturities the previous week to contain an increase in short-term yields.
"The market is trying the BOJ's tolerance for how high it will let yields go," said Shinichiro Kadota, a senior foreign-exchange and yen-rates strategist at Barclays Securities Japan Ltd. in Tokyo. "Now we need to watch tomorrow's rinban."
A BOJ spokesman refrained to comment on the potential for Friday's bond-purchase operation.
The 10-year yield rose as much as 2.5 basis points on Thursday to 0.115 percent, the highest since January 2016 when the central bank adopted a negative interest rate policy. Many analysts interpret the BOJ's target of around zero percent to mean a range between positive and negative 0.1 percent.

BOJ Governor Haruhiko Kuroda faces the challenge of seeking to hold down borrowing costs just as accelerating inflation and an improving outlook for some of the world's biggest economies push up bond yields globally. Kuroda on Tuesday recommitted to his yield-curve control strategy, while pledging to cap bond purchases at 80 trillion yen per year.
The central bank has so far refrained from repeating a step it took in November, when it offered to buy an unlimited amount of government bonds at a fixed rate, even after 40-year bond yields climbed to 1 percent last week for the first time since February.
"The absence of a fixed-rate-purchase operation from the central bank signals it doesn't intend to cap the benchmark yield at 0.1 percent," said Akio Kato, general manager of trading at Mitsubishi UFJ Kokusai Asset Management Co. in Tokyo.
Before it's here, it's on the Bloomberg Terminal.
LEARN MORE