Australia Delivers Record Trade Surplus on Coal-Iron Price Surge
by and
December trade balance comes in A$1.5b higher than expected

Exports climb 5% from previous month; imports rise 1%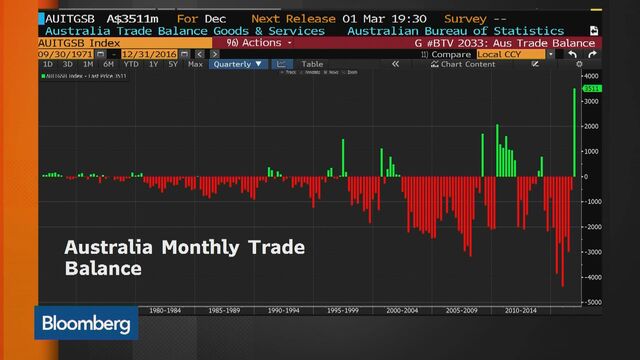 Australia posted a record trade surplus as iron ore and coal exports surged on the back of demand from China and Japan.
Key Points
* Trade surplus of A$3.51b for December; economists expected A$2b
* Exports climbed 5% from month earlier; imports rose 1%
* Largest value of coal exports since November 2008; highest value of iron ore exports since March 2014
* November balance revised to A$2.04b surplus from A$1.24b
* Australian dollar rises to 76.27 U.S. cents at 12:25 p.m. in Sydney, compared with 76.02 cents before report
Big Picture
Australia's trade performance closely correlates with demand from China's old growth drivers like infrastructure and apartment construction. The government in Beijing's stimulus program, together with cutbacks in coal output, has helped underpin a surge in coal and iron ore prices that's now reflected in Australia's sharply improved trade balance. However, the impact of a fall in coal prices since November remains to be seen.

Economist Takeaways
"A record trade surplus shows that the surge in commodity prices is boosting nominal GDP," said Paul Dales, chief Australia and New Zealand economist at Capital Economics Ltd. in Sydney. "The most recent increases in the volume of exports implies that real GDP in the fourth quarter of last year at least may prove to be a bit stronger than we had thought."
"The trade balance swung from a deficit of A$3.8 billion in Q3 to a surplus of A$4.8 billion in Q4," said Andrew Hanlan at Westpac Banking Corp. "The bulk of this improvement was driven by higher commodity prices boosting export earnings."
Before it's here, it's on the Bloomberg Terminal.
LEARN MORE