This Mexican Town Paid the Price for Trump's Attacks on Ford
by
Ford's plant would have employed thousands, fueled growth

Now, Mexican state scrambling to find tenant to finish project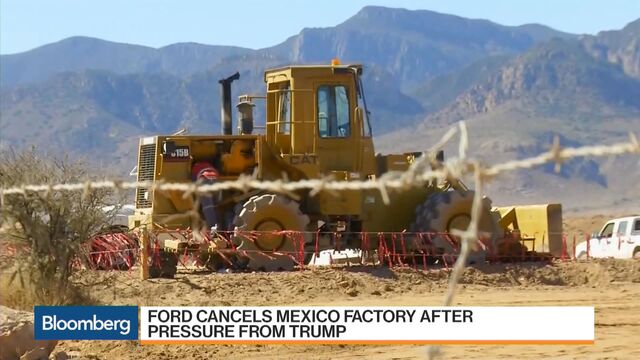 It juts up from the vast arid plains of central Mexico, a hollow shell of steel beams that serves as a harbinger of the damage Donald Trump's "America First" push could wreak on trade partners across the globe.
This was to be no ordinary auto plant. The Ford Motor Co. project, about four hours north of Mexico City, was hyped as the region of San Luis Potosi's biggest private investment ever, a $1.6 billion facility that would have employed almost 3,000 people and added a half-percentage point to the state's economic growth.

San Luis Potosi state still owes money on the land that it bought and donated to Ford. Now, it's scrambling to regain control of the abandoned site and find a new tenant to pick up the pieces. That'll be no easy feat as Trump floats the idea of a border tax of up to 20 percent and continues his Twitter attacks against American companies that ship jobs abroad. When Dearborn, Michigan-based Ford up and scrapped its project on Jan. 3, it became at least the second foreign company in Mexico to bow to the pressure.
"Ford was going to be the engine to make us grow faster," said Gustavo Puente, head of the state's economic development office. "The worst part has been the uncertainty about what Trump's policies will do."

Ford has said its decision was influenced by demand, and the company said in an e-mailed statement Tuesday that it's "working with the local community to ensure we do the right thing."
"We canceled the plant down in Mexico because the bottom line is we saw what was happening with" slowing small car sales, Chief Executive Officer Mark Fields told analysts on a Jan. 26 conference call. "We didn't need the capacity any more and it didn't make any sense to add it."
For the folks of San Luis, it's been a crushing blow. On the day of the Ford announcement, a local mom-and-pop equipment rental service there watched a fourth of its income go with it. And if General Motors Co. or BMW AG pack up, too? Well, people around here don't want to think about that.
"We've heard rumors that others may leave," said Karla Chavez, who works as an administrator at the equipment-rental company, Mapein, which earned about $4,000 a month from the Ford project and expected contracts to keep coming in over the next several years. "All we can do is wait."
One out of every eight workers in San Luis is employed by the auto sector, all of it made possible by the decades-old North American Free Trade Agreement that's propelled millions of Mexicans into the middle class and which Trump is now threatening to shred. In his inaugural speech, he blamed such accords for stealing American jobs, leaving "carnage" in its wake. Hostilities between President Donald Trump and his counterpart, Enrique Pena Nieto of Mexico, could derail $584 billion in trade between the border nations.
Concern that one of the world's largest bilateral trade relationships is headed for a break has depressed the Mexican peso, which is down almost 12 percent since the U.S. election on Nov. 8. On Wednesday, the peso added 0.3 percent to 20.77 per dollar as of 10:26 a.m. in New York.

Trump last month demanded Mexico pay for a border wall, and Pena Nieto responded by canceling an official state visit. As relations between the two leaders deteriorate, the nervousness that tinged conversations at cafes and job lines in San Luis is turning into panic.
"So many jobs were coming. Now, everyone is asking management if they're going to pick up and leave," said Javier Hernandez, who assembles transmissions for Eaton Corp. "We're also wondering if demand is going to go down. Maybe they'll have to fire people."
None of that bodes well for San Luis Potosi state, which donated 220 hectares (about 540 acres) of the 280-hectare plot to Ford. The city government donated the rest. Ford's president of the Americas, Joe Hinrichs, said shortly after the cancellation that the company will return the land to the government of Mexico. Ford now plans to build the Focus compacts it would have made in San Luis at its existing plant in Hermosillo, Mexico.

On a recent afternoon, the site along what's known as the industrial corridor was cordoned off, the heavy machinery idled. Contractors like Mapein were warned to pick up their equipment quickly before looters got to it first.
"We're not sure what to do with this land," said Puente, from the local economic development office. "We could get it back, but we don't really want land that we haven't even paid for. I'd rather have the liquidity than a park that we may or may not be able to sell."
Before it's here, it's on the Bloomberg Terminal.
LEARN MORE